CROWDSOURCED CAST AWAY AT-HOME VIEWING GUIDE 
Friday October 23 at 8PM | Sunday October 25 at 7PM
Building a Vermont Story from the Original Film
The original 2000 American drama Cast Away was directed and produced by Robert Zemeckis and starring Tom Hanks, Helen Hunt, and Nick Searcy. The film depicts the desperate attempt of Hanks, who plays a FedEx employee, to survive and return home after stranded on an uninhabited island due to an aircraft crash in the South Pacific. 
Social isolation, worries about survival, and whether one can ever return to the normalcy of life... all these themes sound like life during the COVID-19 pandemic. We Vermonters, like many others on the planet, can feel like castaways. However, we are not on a strange island, but at our own home. Capitalizing on this familiar strangeness, community members across Vermont produced scenes of their own that have been assembled into a remake of the film. Crowdsourced Cast Away showcases the natural beauty of Vermont, combined with the creativity and ingenuity of  Vermonters. 
Crowdsourced Cinema VT is a project of the Vermont Access Network, an organization of 25 regional community media access centers operating more than 80 cable channels statewide.
"Along came the VT Crowdsource Cinema project, which was the perfect project, at the perfect time." – Donna Girot, Executive Director, CATV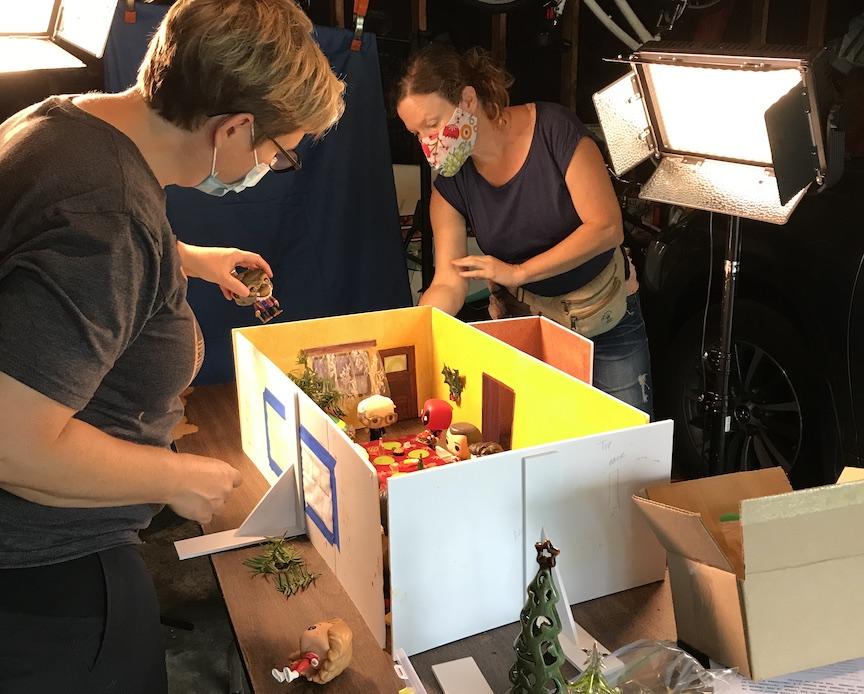 Still from "Christmas Dinner" photo courtesy Stealing from Work.
BINGO BOARD
We have also created a Bingo Board for you to fill out while watching the movie! Keep an eye out for each unique character, prop, or scene!
Crowdsourced Cast Away Fun Facts
36 teams from across VT and NH

8 Remote Filmmaking trainings for teams

39 scenes produced

5 musical compositions created by VT  artists

9 scenes featuring Wilson the Volleyball

More than 100 people contributed to the making of this film!
Still from "Birth of Wilson," photo courtesy Leif Goldberg.
"I'm a radio programmer for WBTV-LP and doing video work has been a great extension of my skills"  - Cindy Marcelle, WBTV-LP Community Programmer
"Most of my students are from different schools and setting and setting out to be creative with strangers can be a challenge. Having this scene to work on provided my students with a chance to meet and work on something creative…"
- Jason Raymond, Digital Media Lab Instructor, Burlington Technical Center
Still from "Plane Home," photo provided by Jude Domski.
Thanks to the following organizations who made Crowdsourced Cinema VT a reality
 
Brattleboro Community TV

Community Access Television

Lake Champlain Access Television

Media Factory

Middlebury Community Television

Mt. Mansfield Community Television

Northampton Open Media

Northwest Access TV

Vermont Access Network
Viewing guide developed by the UVM Public Communications - Communications Action Team