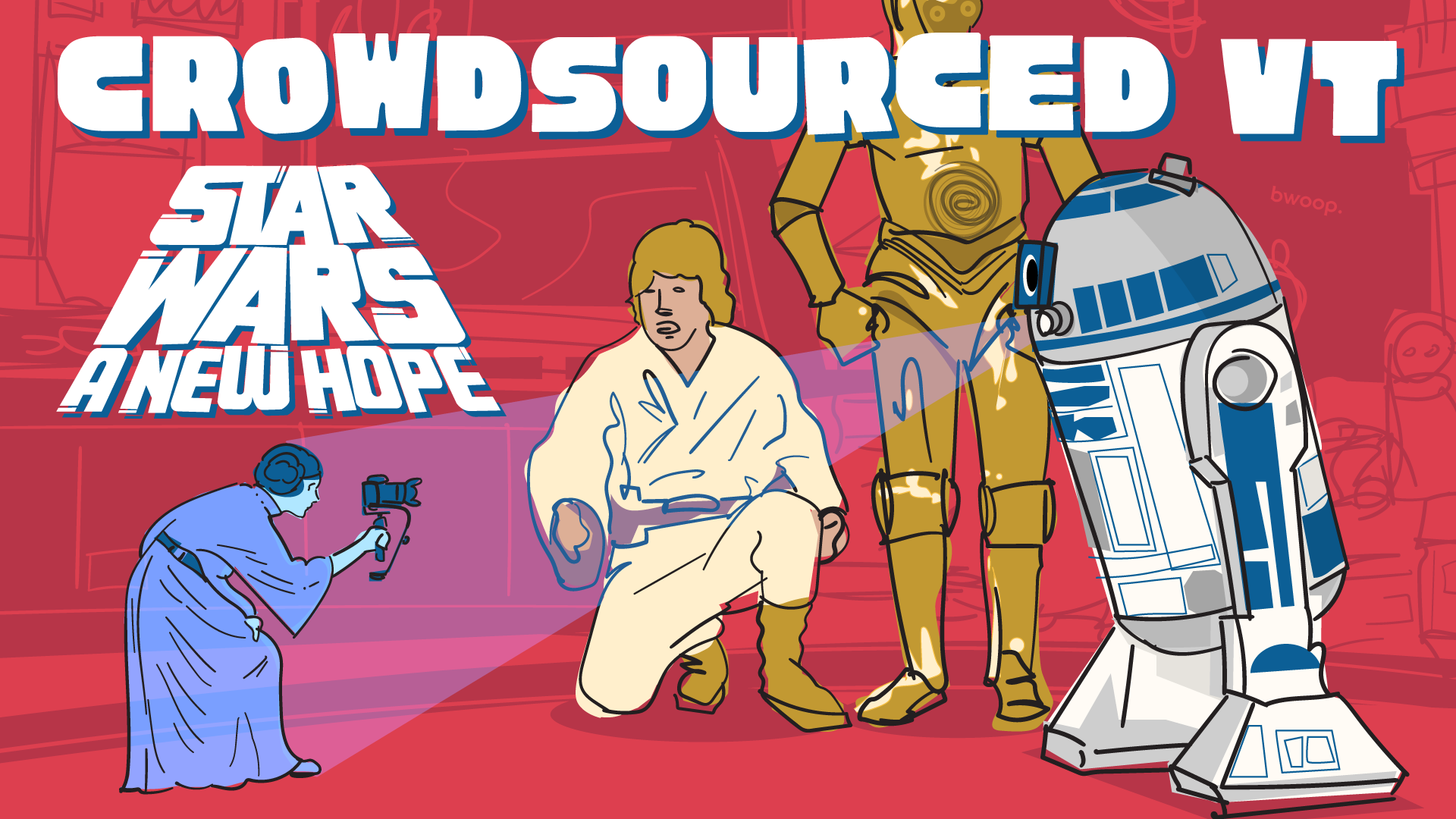 LIGHTNING ROUND HAS BEGUN! SIGN UP FOR A SCENE BELOW.
Crowdsourced Cinema VT 
An expansive statewide collaborative filmmaking project coordinated by Vermont Access Network community media centers.
Sign up to produce a scene from a famous film! Take creative license with casting and film techniques, and make the scene your own! The scenes will be assembled into a complete film that is uniquely Vermont-made. This summer, we will recreate Star Wars: A New Hope, the beloved 1977 space epic! It's a battle of good versus evil, inspired by American westerns and Japanese martial arts films, that opened our eyes to the force around us. Join us to remake this classic sci-fi movie for our community!
How will you perform Jedi mind tricks? Film a lightsaber duel on a space station? Haggle with Jawas for a protocol droid? Create a holographic plea for help? It's up to you!
We are also seeking musicians and composers to contribute new music to our remake! If you are a musician or composer interested in participating, sign up now!
HOW IT WORKS
Each team is randomly assigned a scene from the film to interpret creatively – it could be filmed with live-action, animation, remix, puppetry, and other visual styles. Technical support will be provided by community media educators throughout the project. A  series of online and recorded workshops will help you plan your production, try green screen filmmaking, and learn how to edit your scene! All participants will be able to connect and share ideas on our Crowdsourced Cinema Community Discord.
IMPORTANT DATES
April 11 -  Application Open

May 4 -  Scenes Assigned (and continues on a rolling basis)

August 1 -  Scenes Due

August 8 - Lightning Round

August 15 -  Soundtrack Due

September - Film Premiere (Date and Time TBA)
THE PARTNERS
Crowdsourced Cinema VT is a statewide creative challenge, produced by the Media Factory in partnership with an alliance of Vermont community media centers. The organizations are all members of the Vermont Access Network, (VAN), a membership organization of the 25 regional Community Media Access Centers operating more than 80 local cable channels across Vermont. VAN Members use emerging communications technologies to foster free speech, encourage civic engagement, enhance public discourse, and allow elected officials and community members to communicate better. Key partners include Brattleboro Community TV, Greater Northshire Access Television, Mt. Mansfield Community Television, Lake Champlain Access TV, and Middlebury Community Television, all of whom run summer camps for Crowdsourced Cinema VT or coordinate events and workshops. 
The Crowdsourced Cinema VT project is part of a regional collaboration with Brookline Interactive Group and Northampton Open Media (the original creator of Crowdsourced Cinema), each of which are producing their own version of the same film.