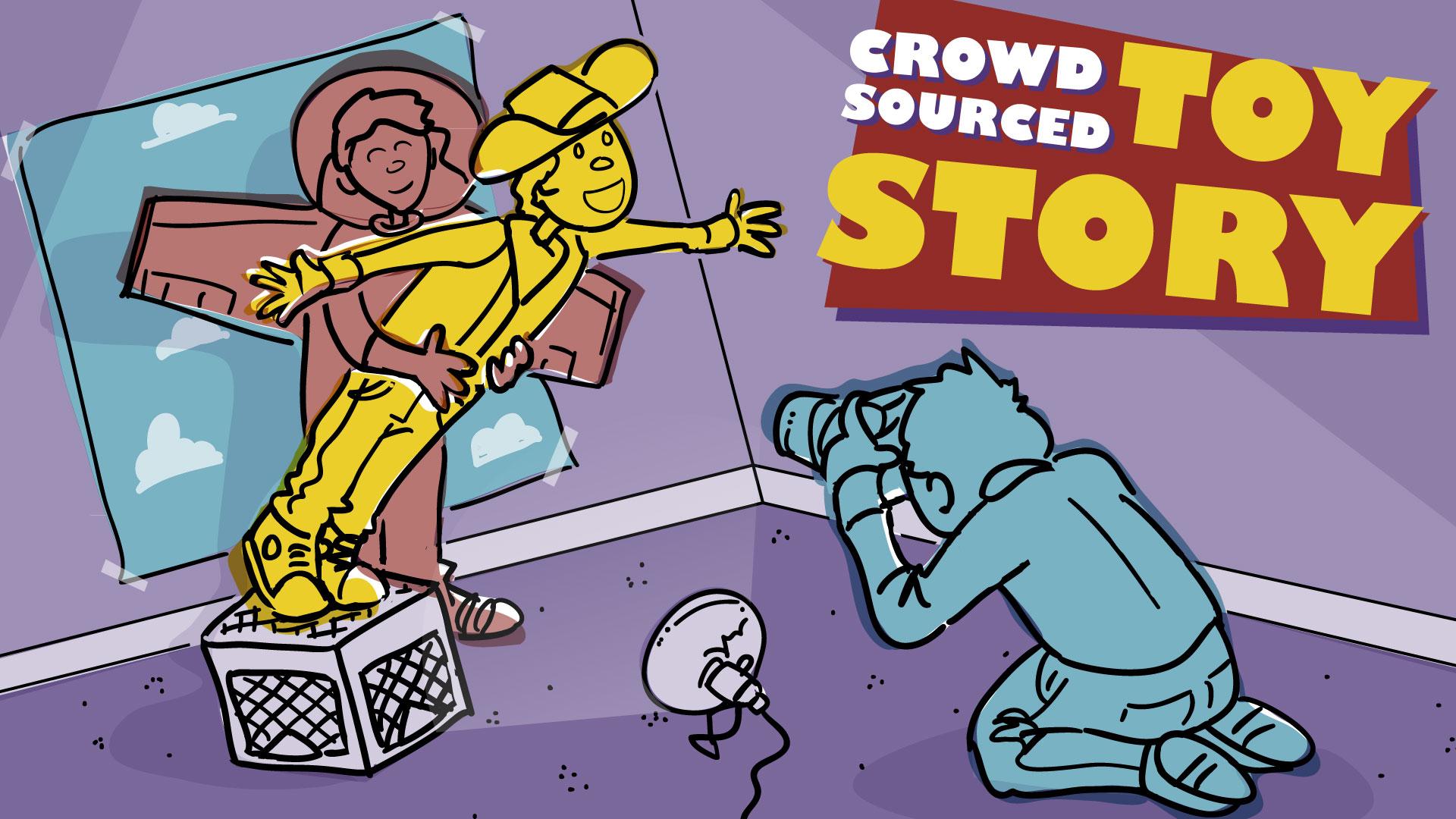 Find Out What's Beyond Infinity
There's a real Buzz in the air as the Crowdsourced VT project embarks on its 4th year of adventure, inviting Vermonters to remake the animated Disney classic Toy Story over the summer of 2023. Grab your favorite deputy and get ready to claw your way through the challenge of recreating an animated film with a team of live action neighbors and family members, coworkers and collaborators! 
No experience necessary. Batteries not included.
This will be the first time the public art project tackles source material that is animated in its original form. While many folks might consider creating their own stop motion, we encourage the teams of filmmakers who join us to reinterpret their scenes with live action footage, different gender roles, and in general create scenes that tell this beloved story in new ways.
HOW IT WORKS
Each team signs up to participate in the project and are randomly assigned a one-to-three minute scene from the film. You have all summer to remake that scene. That remake can approach the scene in any format -- be creative! Scenes can be filmed with live action, remix, puppetry, or other visual styles.
Film teams and musicians are provided technical support by Vermont Access Network members - community media centers around the state from St. Albans to Brattleboro, including a Discord server, online workshops, and gear loans. Find your access center here.
IMPORTANT DATES

March 22 - Film Announcement

April 5 - Filmmaker and Musician Team Registrations Open

April 12 - Scenes Assigned (This continues on a rolling basis)

May - Video Making Workshops Begin

September 5 - Scenes Due

September 30 - Soundtrack Due

November - Film Premiere (Date and Time TBA)
THE PARTNERS
Crowdsourced Cinema VT is a statewide creative challenge, produced by the Media Factory in partnership with an alliance of Vermont community media centers. The organizations are all members of the Vermont Access Network, (VAN), a membership organization of the 25 regional Community Media Access Centers operating more than 80 local cable channels across Vermont. VAN Members use emerging communications technologies to foster free speech, encourage civic engagement, enhance public discourse, and allow elected officials and community members to communicate better. Key partners include Brattleboro Community TV, Greater Northshire Access Television, Mt. Mansfield Community Television, Lake Champlain Access TV, and Middlebury Community Television, all of whom run summer camps for Crowdsourced Cinema VT or coordinate events and workshops. 
The Crowdsourced Cinema VT project is part of a regional collaboration with Brookline Interactive Group and Northampton Open Media (the original creator of Crowdsourced Cinema), each of which are producing their own version of the same film.