Town Meeting Day Returns: Bigger, Faster, More!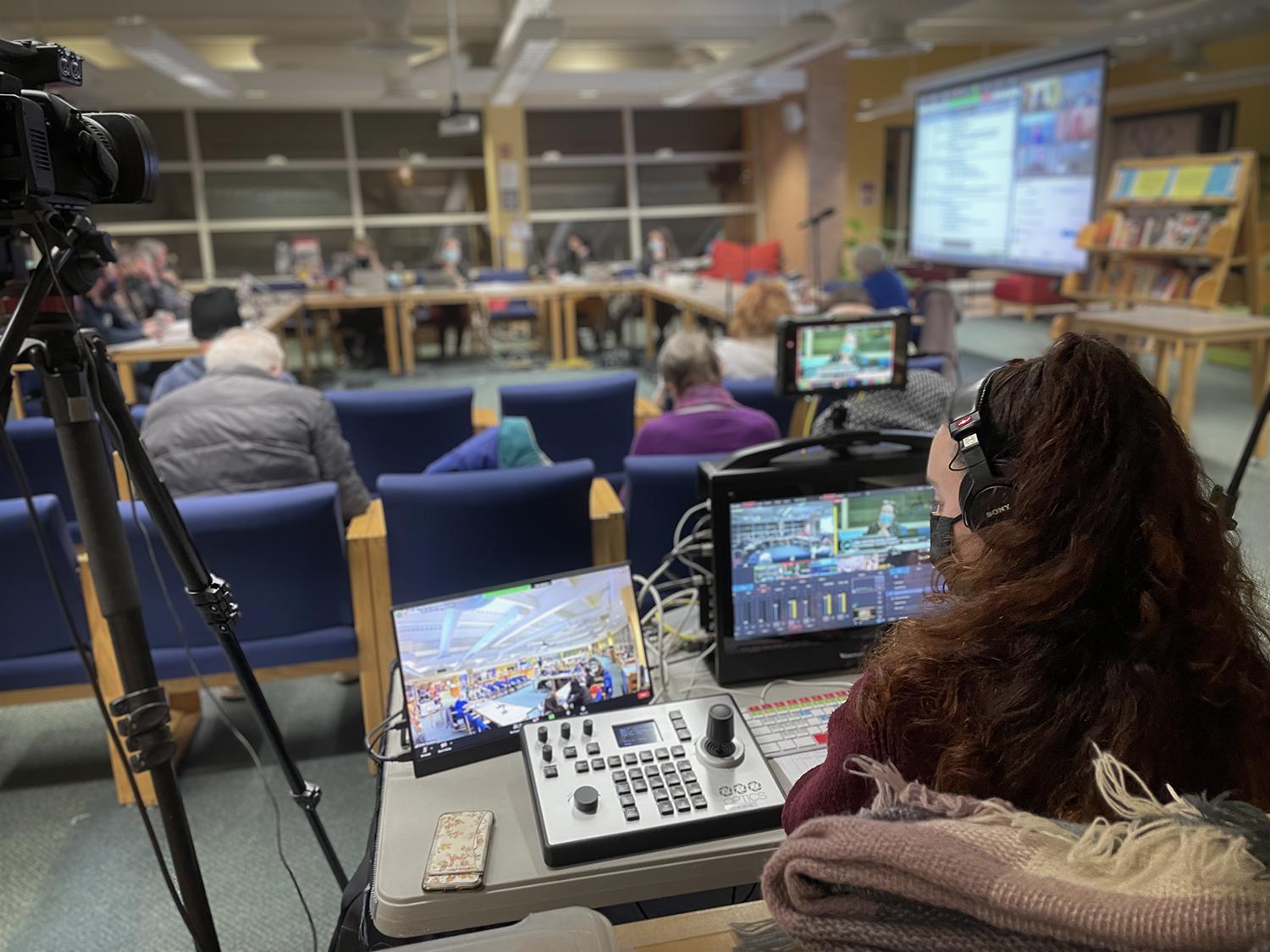 Learn how we'll cover your community's elections on Town Meeting Day.
The traditional Town Meeting Day, where townspeople gather to openly debate and decide on articles, is once again being altered by the pandemic. The state legislature recently passed a bill dropping the requirement for in-person meetings and towns are making adjustments: two towns will allow the public to gather and debate articles on the floor; two will gather their selectboards in person but require the public to join via Zoom, and yet another will hold the entire meeting on Zoom. 
Read more about how the Media Factory will support the towns of Shelburne, Hinesburg, Vergennes, Charlotte, and our newest municipal partner, Ferrisburg.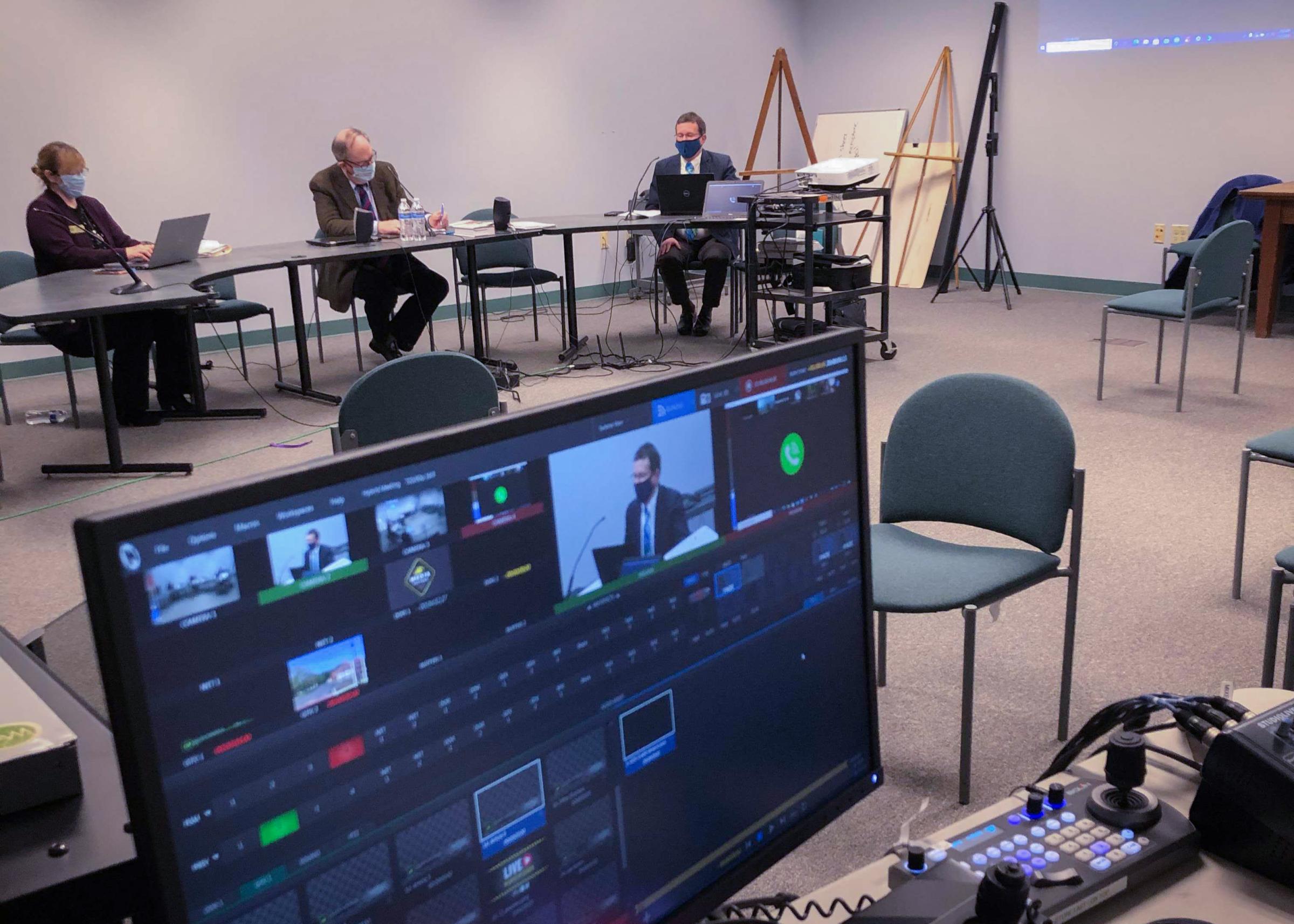 Photo: Shelburne Selectboard conducts a remote information session for Town Meeting Day 2021.
The Media Factory will be in Ferrisburg on Saturday, February 26 at the historic Town Hall for a fully hybrid meeting. We're excited to share what we've learned about running hybrid meetings and what we call "Zoomcasting" - using the Media Factory cameras and microphones to insert high-quality audio and video of the selectboard into their Zoom meeting. Gavel-to-gavel coverage of the meeting will stream live to our website and be available to view on demand.
Also on Saturday, we will be at the Charlotte Town Hall for their informational meeting. In this case only the board and moderator will be present with the public joining in via Zoom. Last year we configured the town hall to start using small remote-controlled cameras, which streamlines the setup and minimizes our impact in the space (see below photo).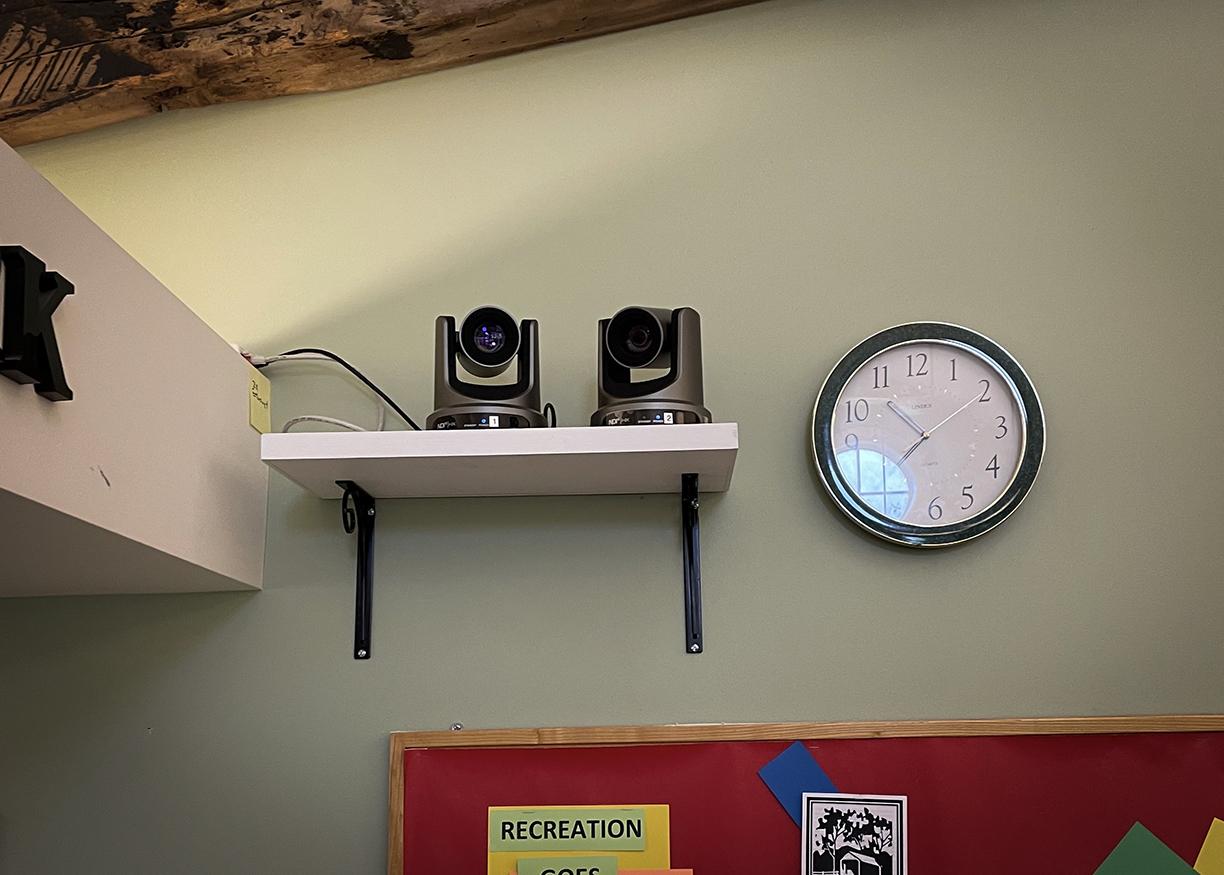 The Media Factory significantly improved the quality of the video and sound for all participants with the equipment and operator that they  provided.  The result has increased public participation in Selectboard meetings, and also made it easier for Selectboard members to participate in meetings when they might otherwise not be able to.
- Dean Bloch, Charlotte Town Administrator
Monday, February 28, is the main event. We will be live streaming six meetings Monday evening, starting with the Champlain Valley School District on Zoom only, and the Addison Northwest School District live from Vergennes Union High School. 
The Hinesburg informational meeting will be entirely on Zoom, Shelburne will be a hybrid with the board and moderator in person and the public on Zoom, and Vergennes will be a hybrid with the public invited to join the city council at the Vergennes Opera House. As if that wasn't enough, Charlotte will hold a regular selectboard meeting which will be livestreamed as well. 
We're excited to get back out on location for some of these meetings, in particular in Shelburne and Ferrisburg where we will be working for the first time in their renovated historic town halls. In spite of the pandemic, democracy marches on and we will continue to support public engagement on town meeting day, and throughout the year.
| Community | Date/Time | Event |
| --- | --- | --- |
| Charlotte | 2/16 7 PM | Candidates Forum* |
|   | 2/26 9 AM | Informational Hearing* |
|   | 2/28 6 PM | Monthly Meeting |
| Ferrisburg | 2/26 10 AM | Informational Hearing |
| Hinesburg | 2/28 7 PM | Informational Hearing |
| Shelburne | 2/15 7 PM | Candidates Forum* |
|   | 2/28 7 PM | Informational Hearing* |
| Vergennes | 2/28 7 PM | Informational Hearing |
| Addison Northwest School District | 2/28 5 PM | Informational Hearing |
| Champlain Valley School District | 2/28 5 PM | Informational Hearing |
All town meetings are aired on ENGAGE. Meetings with a * will be live-streamed on ENGAGE - Comcast 1084. School board meetings are on LEARN, Comcast 1094.