Partner Highlight: Learn, Earn, and Prosper (LEAP)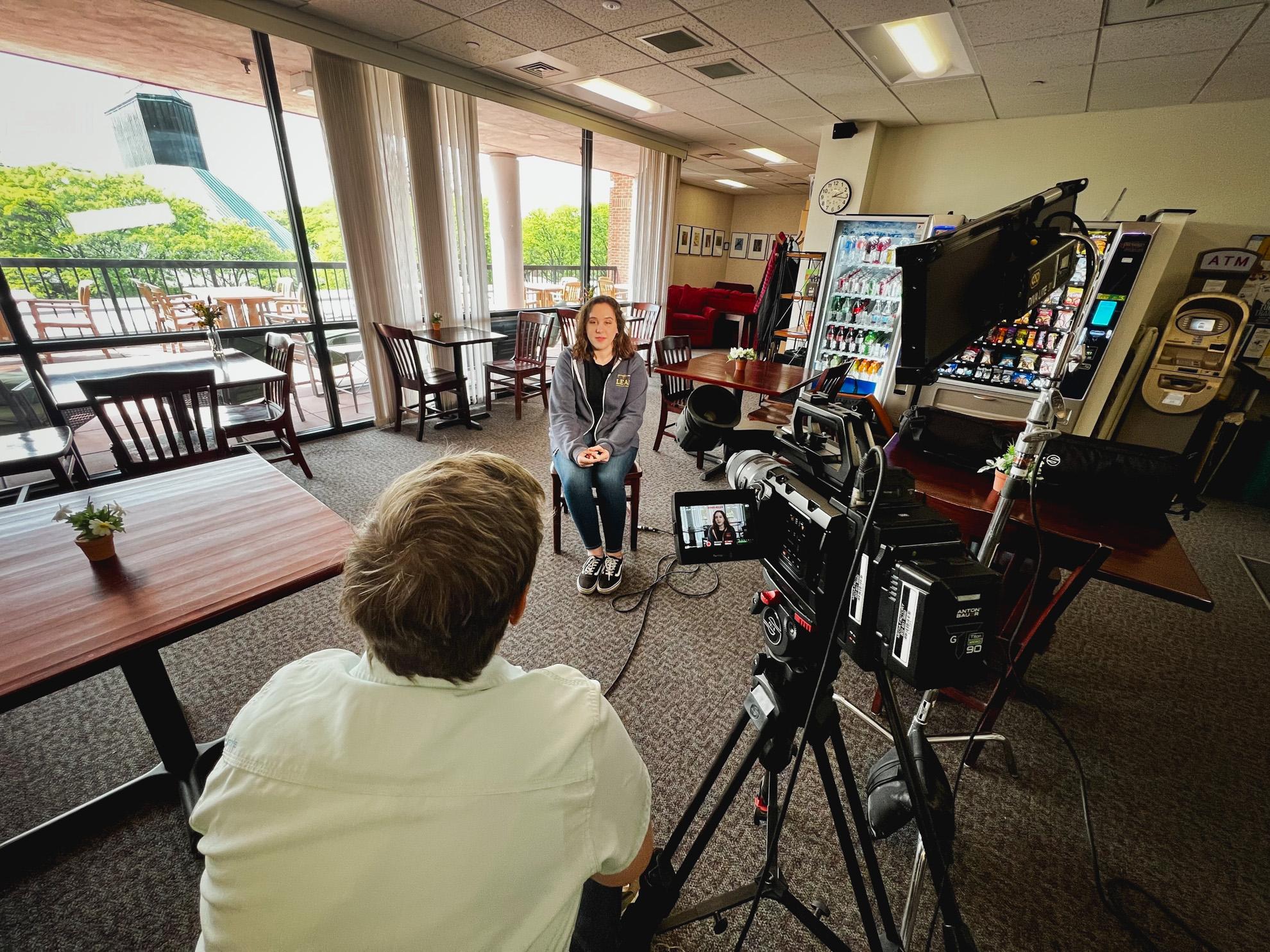 Image: Media Factory Co-Director Jess Wilson interviews LEAP Virtual Program Developer Hannah Peach at the Overlook Cafe.
It's 10am on a summer Tuesday at the Media Factory and the familiar sound of the Zoom "joining the meeting" chime fills the classroom. LEAP students from around the country are logging on to a virtual session with Media Factory Education Manager Ross Ransom and Community Engagement Manager Gin Ferrara. Each week these students learn video production skills and work in small teams to conduct interviews with each other.
These students are unique because they all are blind or visually impaired and the LEAP Summer Virtual Work Based Learning Program gives them the opportunity to build skills, confidence, independence, and connection. LEAP is a program of ReSOURCE that partners with the Business Enterprise Program and the Vermont Division for the Blind and Visually Impaired. For the past two years the Media Factory has provided training services to the program that successfully innovated during the pandemic to move many of its offerings online. 
"The Media Factory is an excellent partner," said LEAP Virtual Program Director Hannah Peach. "They go above and beyond to meet the needs of our blind and visually impaired students and we are grateful to have such strong stories to share!"
The Media Factory's partnership with LEAP has gone beyond our Education department as our Production team has produced videos highlighting the virtual program, the Summer Residential Program, and most recently a short documentary that shares some of the stories of the distinctive Overlook Cafe.
The Media Factory is grateful to partner with organizations like LEAP who are providing essential services to our community. Supporting blind and visually impaired students to tell their stories in a visual medium, and making video content for this audience, has been an invaluable learning experience for our staff. It has pushed us to think more deeply about the accessibility of video and audio technology in our space to ensure we create opportunities for all community members.
Check out the work of LEAP students below!