Media Factory Highlights of 2022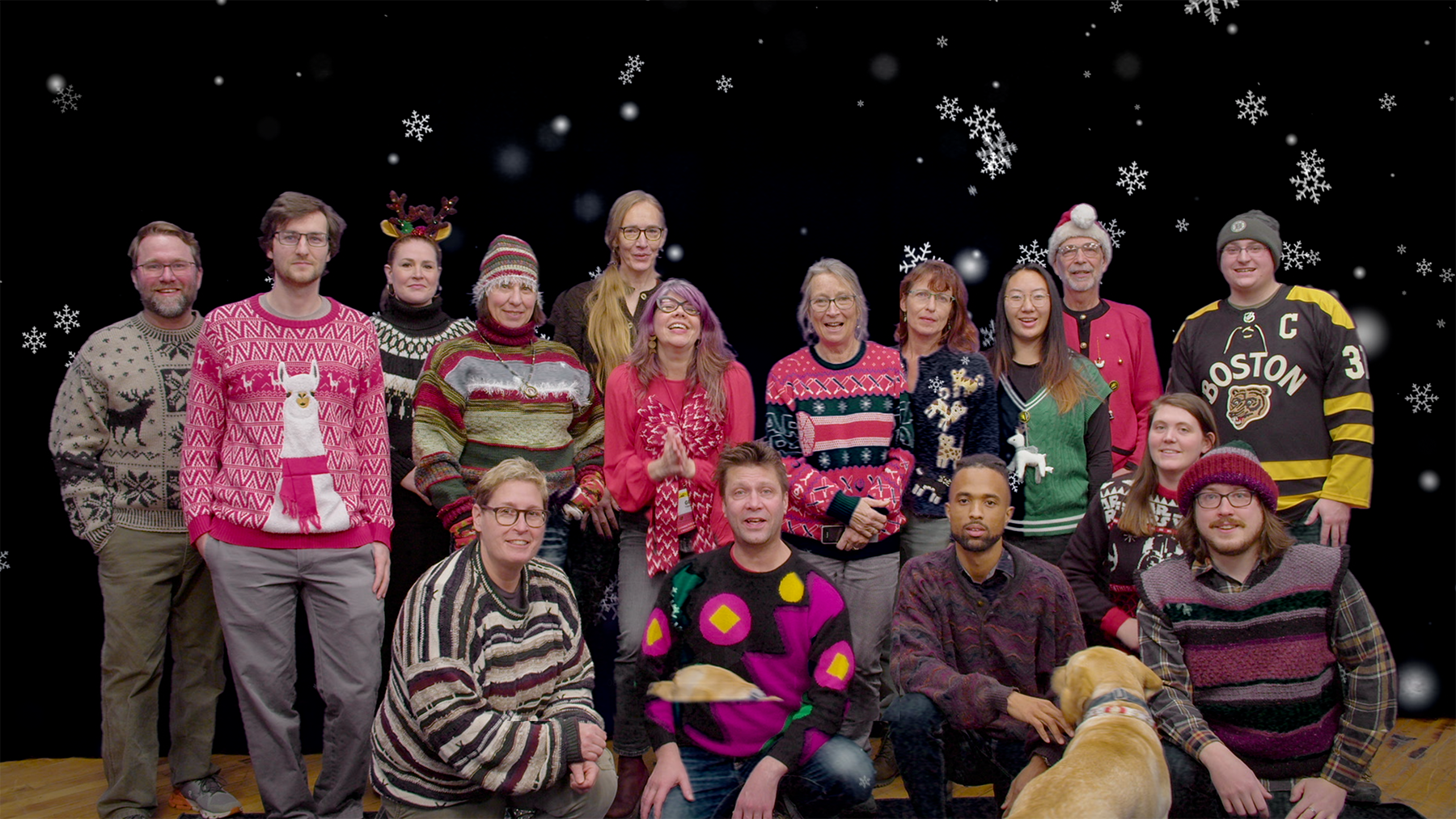 We share some of our many bright moments in a year of community media.
Image: Media Factory staff wear holiday sweaters for their December 2022 photo shoot
 
My favorite production project of the year was our documentation of the Howard Center Arts Collective and Fleming Museum collaborative exhibit, Call and Response: Personal Reflections on the Fleming Collection. Our team interviewed artists about their work on the project and the resulting video is installed as part of the exhibition at the Fleming!
- Jess Wilson, Co-Director
Image: Rafad Amjed shares the inspiration for her painting in the exhibition "Call and Response."
We had the opportunity to work with the African diaspora group, A2VT. Patient, Jude, Nora, and I filmed and edited their music video,"One Time Only," which who won First Place - Music and Performance, in the Nor'easter Video Awards! It's great to support local artists with our resources, and get to learn from each other.
- Ken French, Municipal Services Manager
Image: Still from the A2VT music video, "One Time Only" 
Graduation Season was particularly special this year as I graduated from Champlain College and dove right in to working with Media Factory to live stream other local graduations. It is all hand on deck work for us here, and seeing it all come together was a great work and learning experience, that would eventually lead me to becoming Production Coordinator!
- Logan Chalmers, Production Coordinator
Image: Logan films the Essex High School commencement ceremony
Crowdsourced VT Star Wars was out of this world! In our 3rd year, we had more scenes, more film teams, and more musicians than ever before. And seeing all the work culminate in our outdoor premiere was so gratifying!
- Ross Ransom, Education Manager
Image: Hayes Johnson's R2 unit watches the premiere with a crowd at the Media Factory lot.
One of my highlights for the year was getting to film "Epoch Generation" the interactive performance by In Tandem Arts. It was a spectacular and deeply interesting performance that truly engaged an active audience. I'm very thankful to have been able to attend and capture the performance along the way.
- Marcy Webster, Production Manager
Image: A still from the live performance recording of Epoch Generation.
Our summer and winter sessions for Learn, Earn, and Prosper (LEAP) were an exciting and fun challenge. Learning how to teach videomaking for visually impaired learners makes us better instructors, and our students were fantastic!
- Gin Ferrara, Community Engagement Manager
Image: The winter LEAP Videomaking workshop on Zoom.
A memorable Media Factory 2022 event for me was shooting the The Vermont Youth Orchestra performance. It was inspiring to watch these talented musicians play as well as fun working together with my creative co-workers on a production.
- Megan Roberts, Production Technician
Image: Vermont Youth Orchestra's first concert of the season, at Spruce Peak Arts Center in Stowe.
Thank you for making memories with us this year! Help us make 2023 another great year for community media-making.