Innovation for a Well-Knit Community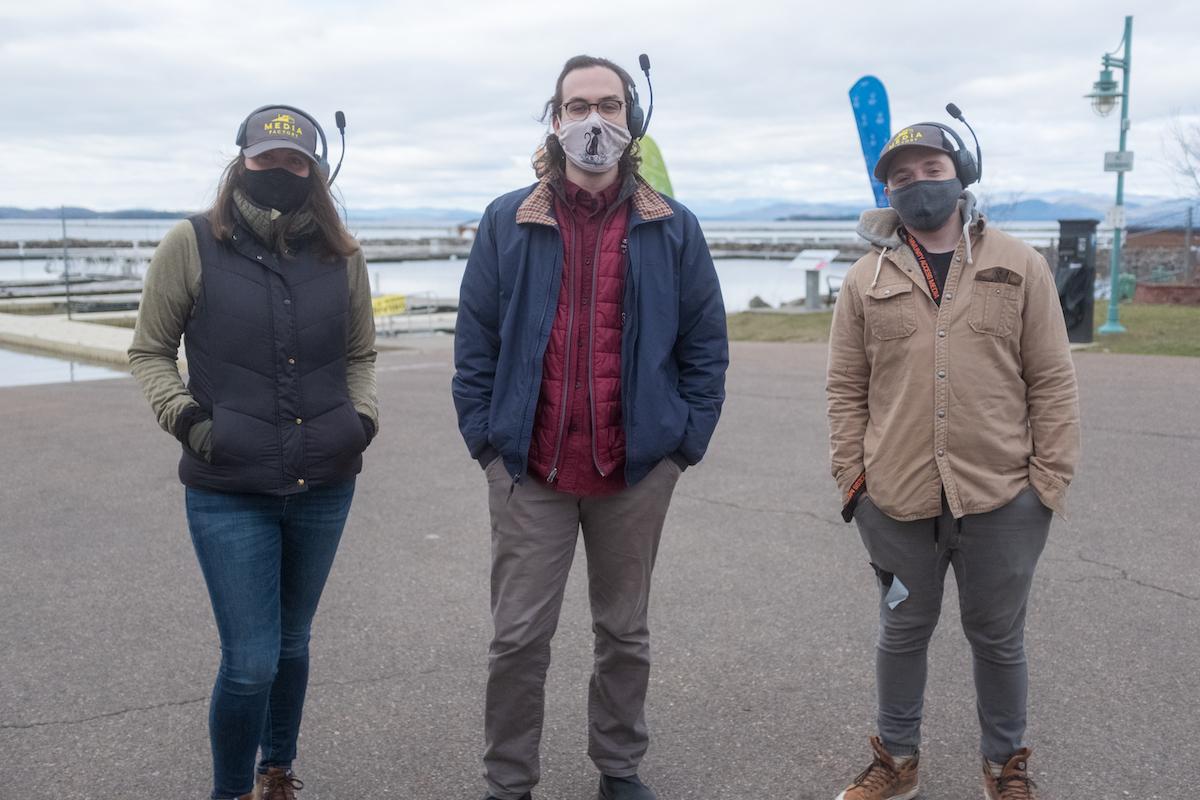 We look back at a year of innovating and staying connected.
Photo: Marcy, Joey, and Jeffrey on location for the livestream of the Penguin Plunge.
Many of us began 2021 with the hopes that our life and work would return to "normal." As early as January we realized that we were on a new path - and balancing many different community needs. This called for innovation and flexibility.
Read on to learn more about this year's accomplishments, and support our work in the year to come!
As town governments need to reach their community at all levels of social comfort, we developed a system for hybrid meetings, and shared this knowledge with other Vermont community media centers and our municipal partners. We helped democracy thrive during a time when community engagement became more important than ever.
Photo: Ken French at the mixer board for the Vergennes High School graduation, outdoors and livestreamed.
When live events resumed, but the audience remained virtual, Media Factory partnered with cultural organizations such as Vermont Youth Orchestra to provide a livestream of their performances. By connecting these talented young musicians with their audience, we brought music into people's homes and enriched our community.
Photo: The Vermont Youth Orchestra's Spring Concert.
Help us continue to innovate and support our community for the year to come with a tax-deductible donation!

 
As vaccines became available and people began to gather, we worked with key staff to bring more people into the space with health and safety in mind. It began incrementally, with the studio open alternate days, then daily, adding more frequent access to the TV studio and radio station, and welcoming back our dedicated community media makers.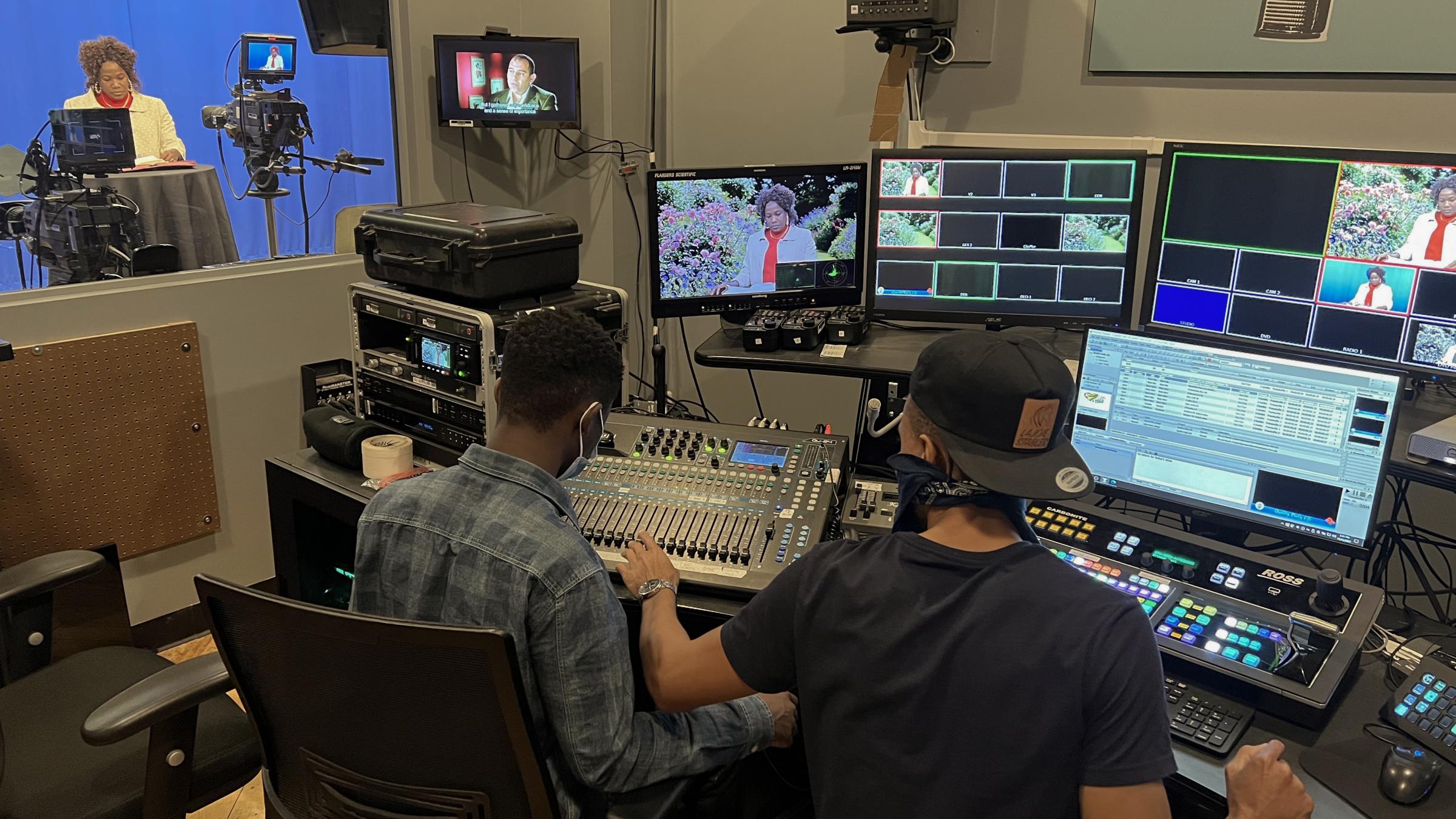 Photo: R-L: Rich Gibbs and Patient Mwibeleca operate the camera switcher for Pastor Catherine Assignon Kasongo's "Quality Daily Life" in the TV studio.
For the second year, Crowdsourced Cinema VT provided a summer film project for families, small groups, and individuals. Several community media centers also launched summer film camps, producing a scene from the blockbuster "Jurassic Park" in just one week! Our education department coordinated this statewide project, scheduling online workshops and introducing a Discord server to encourage community engagement. The final film is a glorious, creative work, featuring animation, green-screen effects, puppets, digital effects, and incredible performances by more than 200 Vermonters.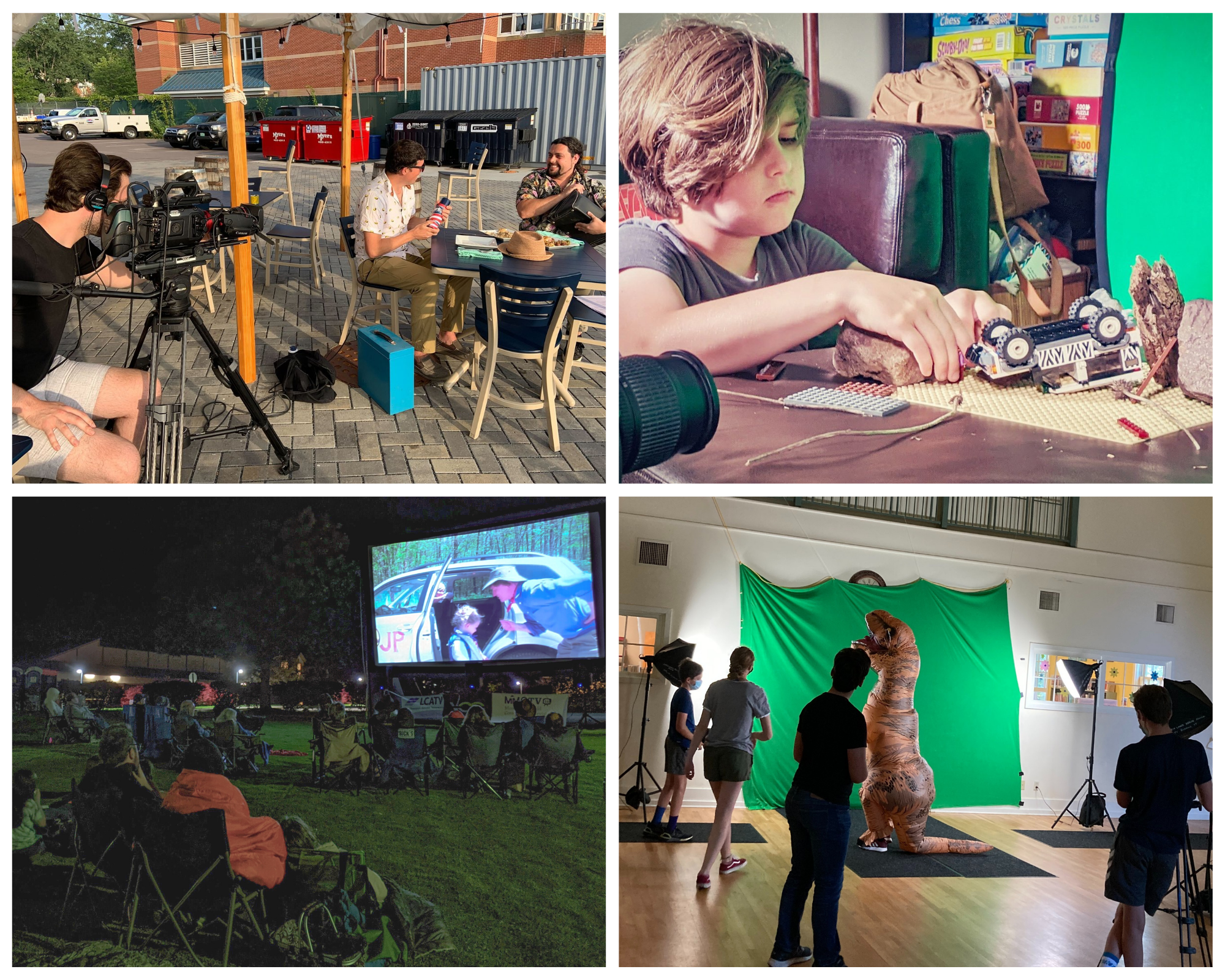 Photos, clockwise from top L: On location for a Crowdsourced VT scene with Nedry and Dodson, animating Legos of a vehicle upside down, filming a costume T-rex in front of a green screen, the outdoor screening premiere in Essex. 
This fall we expanded our staff with two new Production Techs: Nora Austin Murphy and Patient Mwibeleca, allowing us to staff our evening production shifts with two people. This has provided more regular support to 99.3 FM WBTV-LP radio programmers, allowed for additional livestreams of municipal meetings, and increased our overall capacity as an organization to serve the community.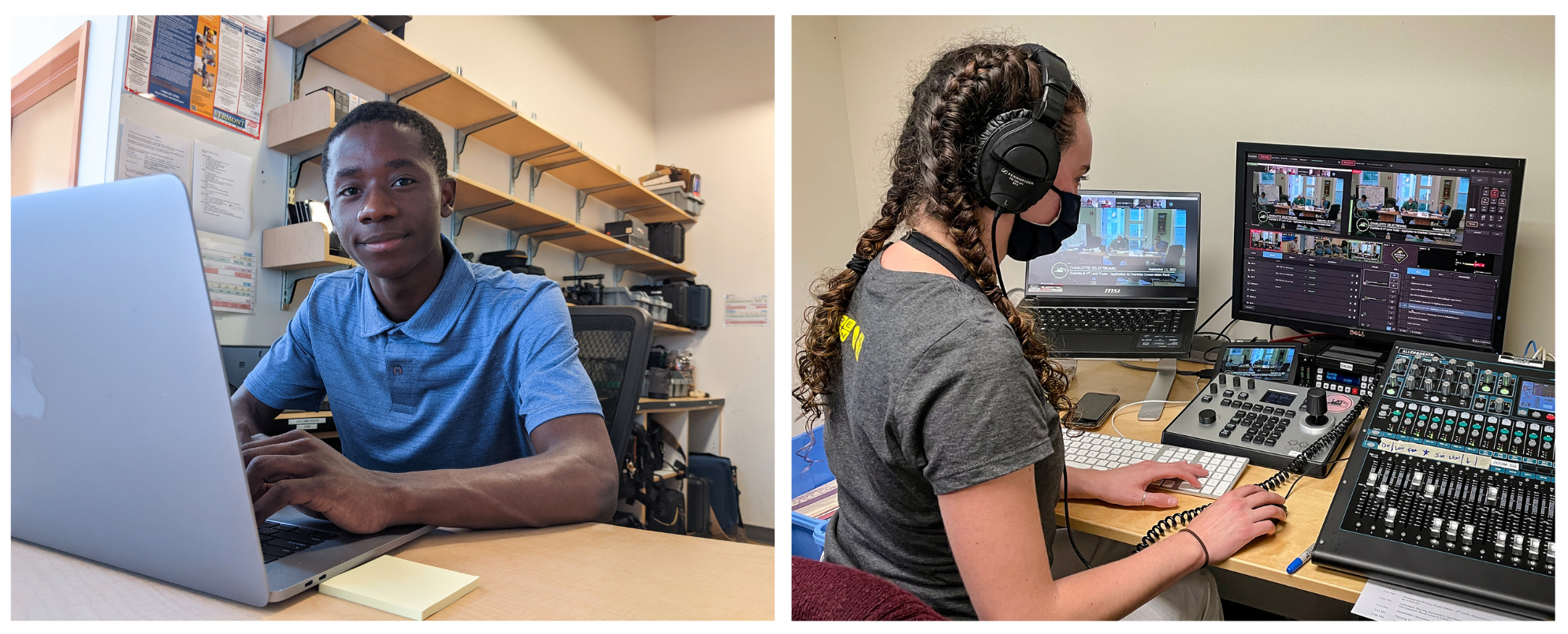 Photos, L-R: New Production Techs Patient Mwibeleca and Nora Austin Murphy at work.
As more people engage with community media in diverse ways - on their phones, computers, video on demand services, and of course traditional cable television, we have partnered with community media centers nationally to build Localeyz - a multi-platform app that shares live TV and radio, as well as podcasts and video series.
All this innovation is about connection: our livestreams, online events, community projects, and apps are the means to bring people together and support our community however we can.
We don't know what 2022 will bring, but we know we can weather it with your support. As distribution avenues shift, and community media centers evolve, know we are here for you, and are poised to adapt to shifting, and growing, community needs.

 
Photo: Media Factory staff at our first in-person meeting this summer. We hope to do this again next year!
Your investment gives us the flexibility to innovate and serve our community where you need us most. Please consider making a tax-deductible donation to the Media Factory. Your donation supports online workshops, community radio, livestream services, and enables us to better serve our community in new and exciting ways in the future.
Thank you for being part of our community!