Highlights of 2021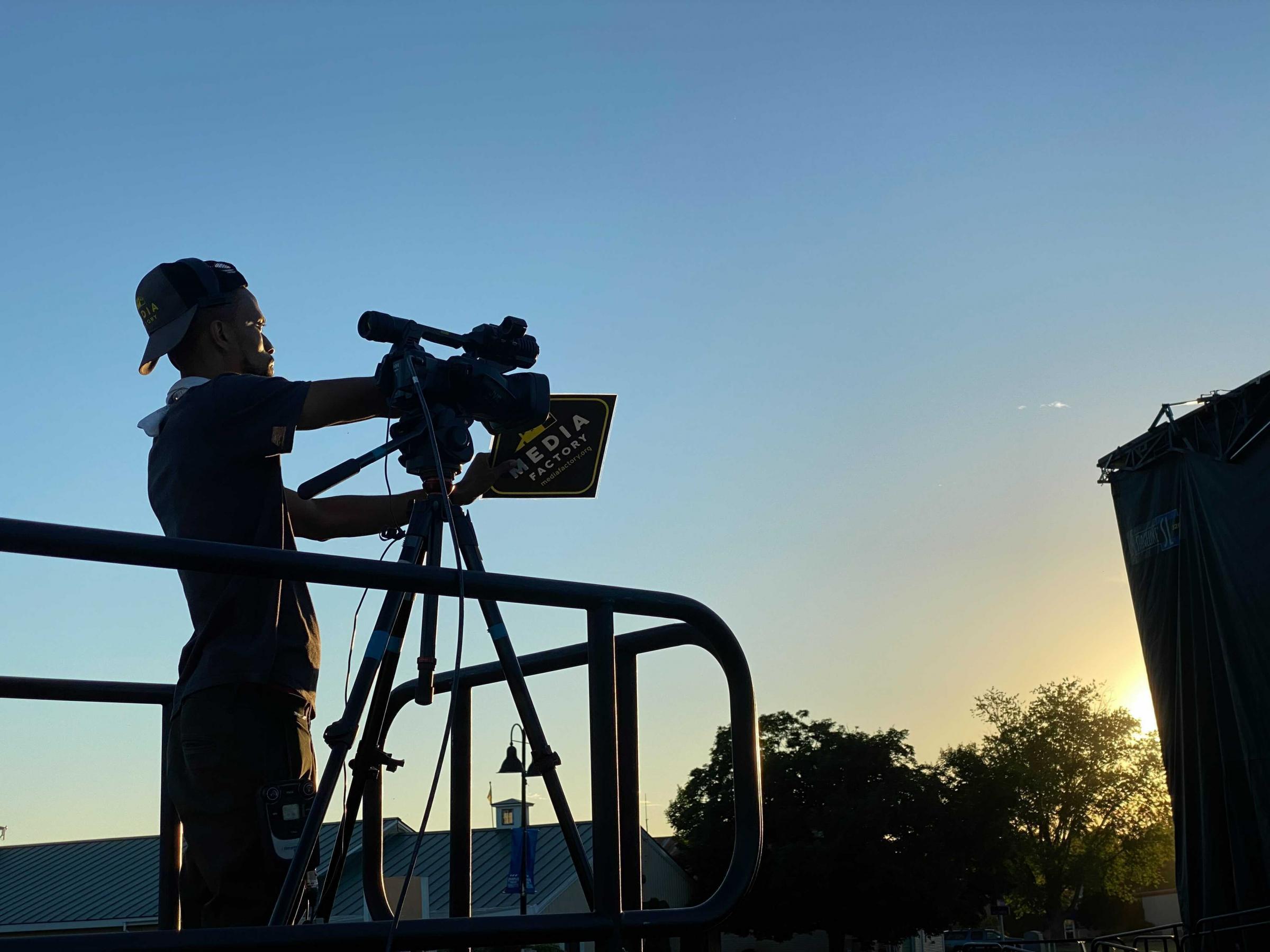 We share some of our favorite memories from the past year.
JESS WILSON and SETH MOBLEY
Co-Directors
"So many great things happened at the Media Factory in 2021 but our top highlight was finalizing the RETN and VCAM merger. This was a long-time coming (the first seeds were planted in 2007 when RETN co-located at 208 Flynn Ave with VCAM) and the culmination of tons of work by the staff and boards. We are disappointed that the pandemic has made a big celebration impossible but so excited to see what we accomplish together in the coming year."
Photo L-R: Media Factory co-directors Jess Wilson and Seth Mobley smile behind their masks as they hold the merger agreement in front of a Media Factory sign.
JUDE DOMSKI
Production Technician
"My highlight this year is our three studio shows by new members!  Jason Vartuli's fun, loopy riff on books and film adaptations, Pop Vultures, just completed their sixth episode. In the can, ready to premiere in early 2022 is Vermont Byways, Juliana Anderson's thoughtful talk show about local topics. And Just a Couple of Old Guys features Steve Milizia and company talking sports."
Photo: Steve Milizia ready to start the first television episode of Just a Couple of Old Guys
KEN FRENCH
Municipal Services Manager
"Completing the equipment install at Charlotte Town Hall was really exciting. Instead of setting up all our video gear on a table right by the front door, now our Field Producer (Nora Murphy pictured) has a dedicated workspace in an out-of-the-way office. Using tiny remote-controlled cameras also reduces the public's perception that they are walking into a TV studio. The installations in Shelburne and Hinesburg have been a big success and we are expecting to complete an installation in Vergennes soon."
Photo: Production Technician Nora Murphy operates the livestream equipment at the Charlotte Town Hall.
GIN FERRARA
Community Engagement Manager
"The Winter Film Club was a great way to connect high school filmmakers when many people were still working and learning remotely. Members discussed production techniques, watched films for inspiration, and supported each other's creative efforts, with support from our education department and Burlington Technical Center Digital Media Lab instructor, Jason Raymond. It was a project I really looked forward to each week."
Photo: The flyer for the Winter Film Club screening, featuring the filmmakers and mentors in film strips.
EMILIO FORNATORA
Production Technician
"The first time I came back to the office it felt like I finally wasn't alone anymore. Covid has been such a stressor on everyone, and just walking through those doors again and seeing a familiar face or two, that was a highlight that I'll never forget for the rest of my life."
Photo: A smiling Emilio wearing a Media Factory beanie in the office.
DREW FRAZIER
Content Manager
"When you're in the midst of an ongoing global pandemic, staying connected can be a challenge. Our live streaming services have filled a real need this past year. We've provided live coverage to over 350 events in 2021 (more than 1 per day!), including VYO concerts, graduations, the 2021 Pride Awards, Homeshare VT's annual "Stories from the Heart" event, Penguin Plunge, meetings galore, and many others. I'm particularly excited for the return of PechaKucha Night this NYE at FlynnSpace. If you can't make it in person, don't worry – we'll be live streaming it!"
Photo: Chris Dissinger at the mic, speaking to an attentive audience at Pecha Kucha in 2019.
JEFFREY LLOYD
Production Technician
"Getting to record proud students at graduations this year was a big highlight. They deserve a lot of recognition for these past two years."
Photo L-R: Jeffrey, Marcy, Ken, and Jude stand at the controls under a tent at St. Michael's College graduation. 
NORA MURPHY
Production Technician
"When I first started at the Media Factory six months ago, I was rather clueless; I had barely used a video camera before! Everyone at the Media Factory has been so welcoming and willing to teach me a range of media skills, like shooting, editing, color correction, and audio mixing. As I gain confidence in my production skills, I am creating more personal projects, which has been very fulfilling. I'm excited to continue to grow at the Media Factory in 2022!"
Photo: Nora filming the Vermont Youth Orchestra at the Flynn.
JOEY PALUMBO
Production Manager
"Working with the team at Special Olympics Vermont to turn the Penguin Plunge into a live-streamed production was a fantastic challenge. We conducted interviews, edited remote plunge videos, then broadcast it all from a media trailer at the waterfront on the day of the Plunge. It would not have been possible without our awesome crew and collaboration with the SOVT team, and I couldn't be happier with the results."
Photo: The Champlain Valley Union High School team runs to the lake at the 2021 Penguin Plunge.
ROSS RANSOM
Education and Facility Coordinator
In our second year of the Crowdsourced Cinema VT project, we experimented with Discord to create a space to foster collaboration between project organizers and filmmakers, and host resources for production teams. It created a fun, quirky environment filled with teams sharing their progress, posting behind-the-scenes photos, brainstorming with other teams, reacting with custom dino emojis, and connecting over their shared passion for filmmaking.
Photo: Ross shares resources for Crowdsourced Jurassic Park on our Discord server.
MARCY WEBSTER
Production Coordinator
"A highlight for me was working with the Pride Center of Vermont to produce the Vermont Pride Awards live from our studio. It was such a fun night and went off without a hitch! "
Photo: Pride Center Director of Communications and Development, Justin Marsh, speaks on-camera in the TV studio. 
We found so many different moments to be memorable this year. In general we all agree: The COMMUNITY is what makes our work special. Your support of our media education programs, livestreams, radio production, and community partnerships benefits our community as a whole. Please consider making an end-of-year gift to help us do more in 2022!
Thank you for being part of Media Factory's 2021! We look forward to working with you in 2022!