Highlights of 2020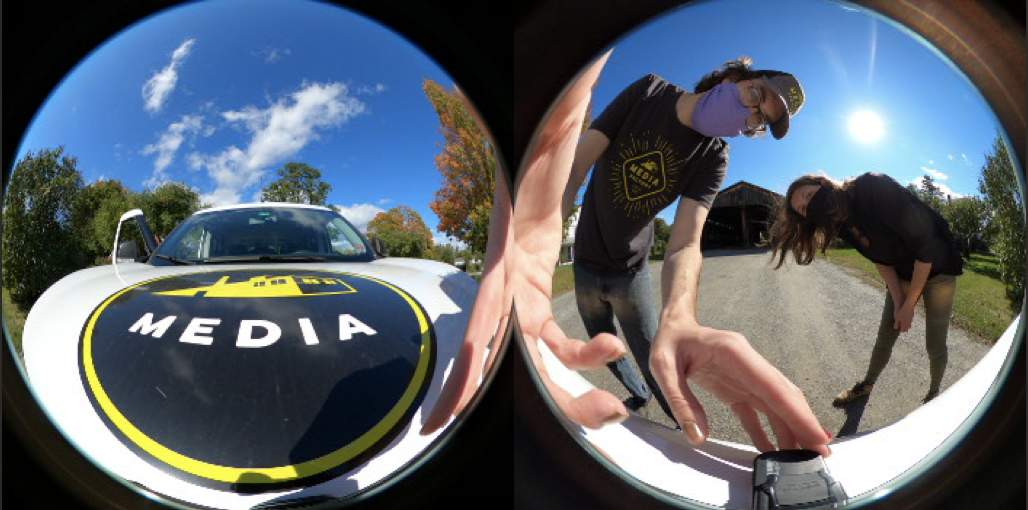 A non-comprehensive list of our favorite memories from a wonky year.
The year brought many challenges, and the Media Factory rose to meet them, as we shared in this blog post. We also had many moments that reminded each of us WHY we work in community media, interactions that reinforce the importance of being here for you. The completed projects were just the beginning -- here are some of the highlights of 2020 from Media Factory staff.
Getting creative to make graduation memorable
JESS WILSON, Executive Director, RETN
One of the most difficult things about the pandemic has been our need to be physically distanced from our families and friends - that has had such an impact on our ability to honor important life moments like graduation. We were happy to put our heads together with our school partners to find a way to celebrate.
JEFFREY LLOYD, Production Technician
Filming the drive-in graduation at Champlain Valley Fairgrounds, and standing with a camera in an ocean of cars honking for the graduates was a memorable experience.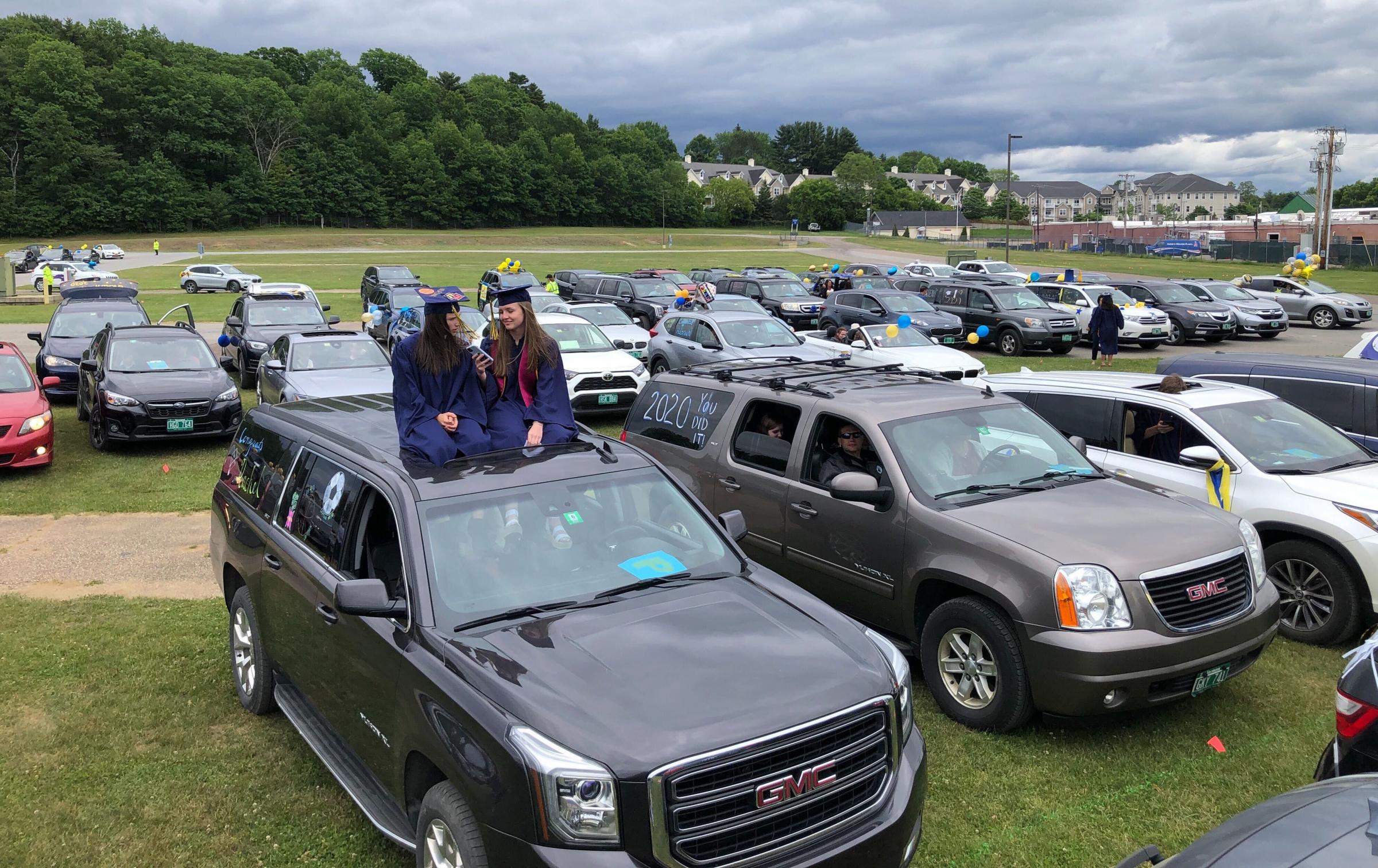 Keeping representation and community voices in remote meetings
KEN FRENCH, Municipal Services Manager
Setting up Zoom school board meetings with the Winooski School District, and seeing all the hard work of creating a multi-camera meeting come together was rewarding.  It felt good to make an event with a complicated agenda and complex engagement look great.
COLIN CONNOR, Production Technician
A highlight for me was adapting production for municipal meetings, like the Winooski School District meeting on 7/15 when students formed a committee for anti-racism, seeing 10-20 people speaking, and watching young people take the reins.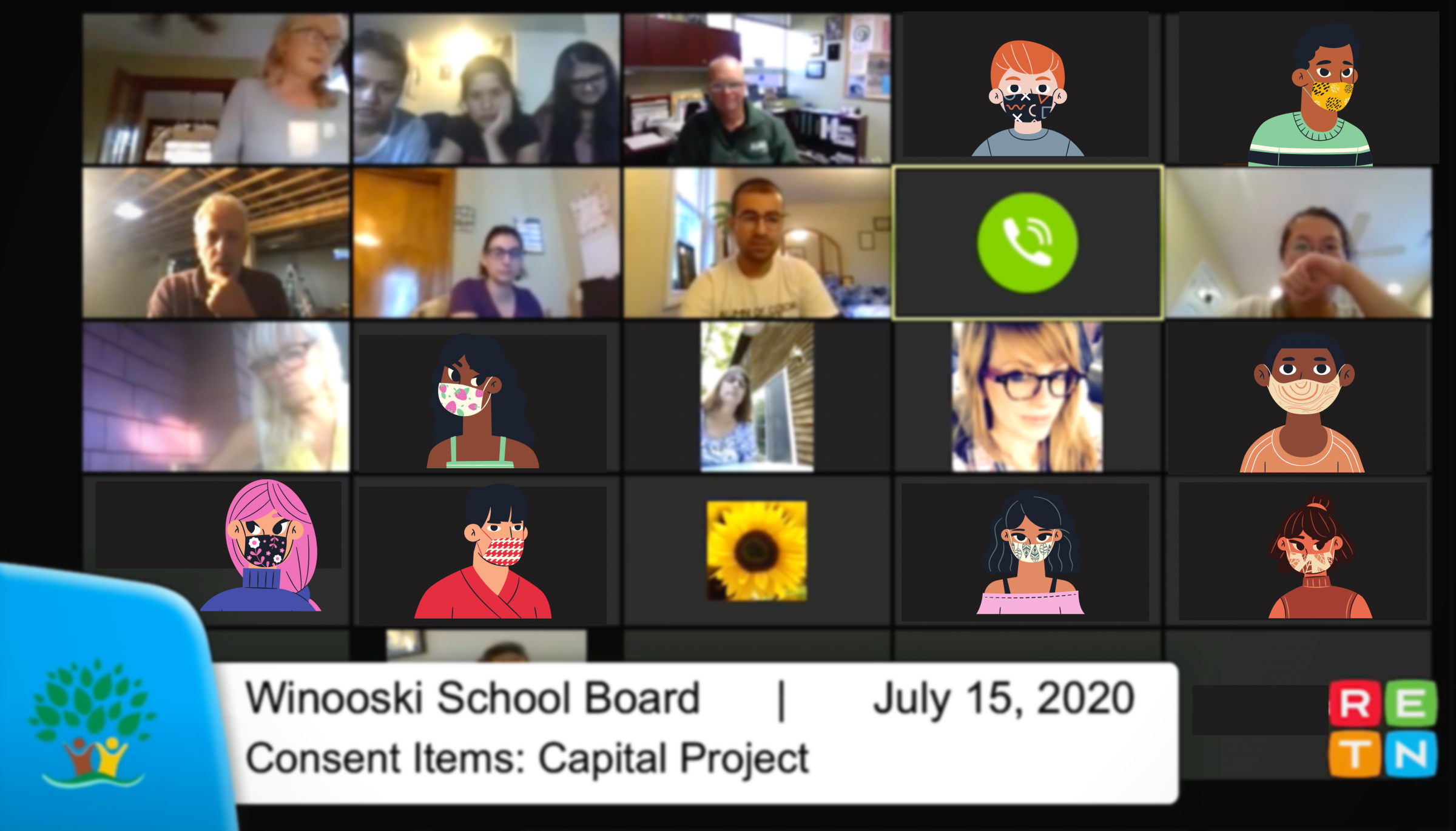 Making connections at the studio
EMILIO FORNATORA, Production Technician
Recording Superintendent Yaw Obeng's message to the BSD school community, the last day our studio was open before the lockdown was a humbling experience.
JOEY PALUMBO, Production Manager
It was great to get back into the Media Factory studio to work with Reverend Ramona Guadalupe to record The Promises of God / Las Promesas de Dios. That was our first studio recording since COVID-19.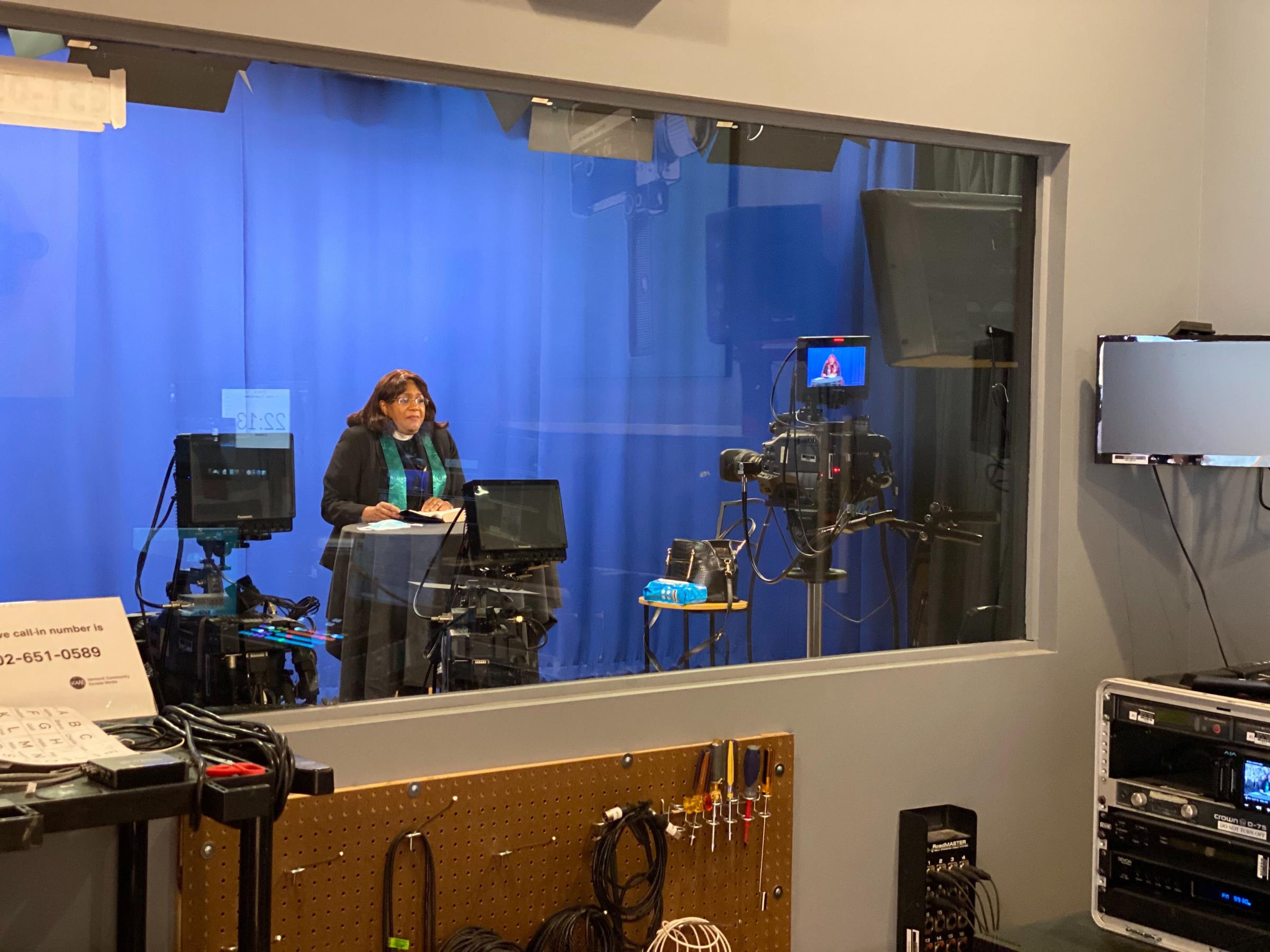 RICHARD GIBBS, Production Technician
It was good to return to the Media Factory space and get to connect with people again. Providing 1:1 tech support and curbside reservations, and hearing people's appreciation for it.
Building and maintaining relationships remotely
ATHENA KAFANTARIS, Radio and Outreach Coordinator
Changing my communication style to reach out to individuals more during the pandemic resulted in becoming more connected to people, which was an unexpected benefit.
ROSS RANSOM, Education Coordinator
Some of my most memorable moments were working with workshop attendees and having small groups and 1:1 exchanges online. I especially appreciated reconnecting with folks who had attended live events in the past.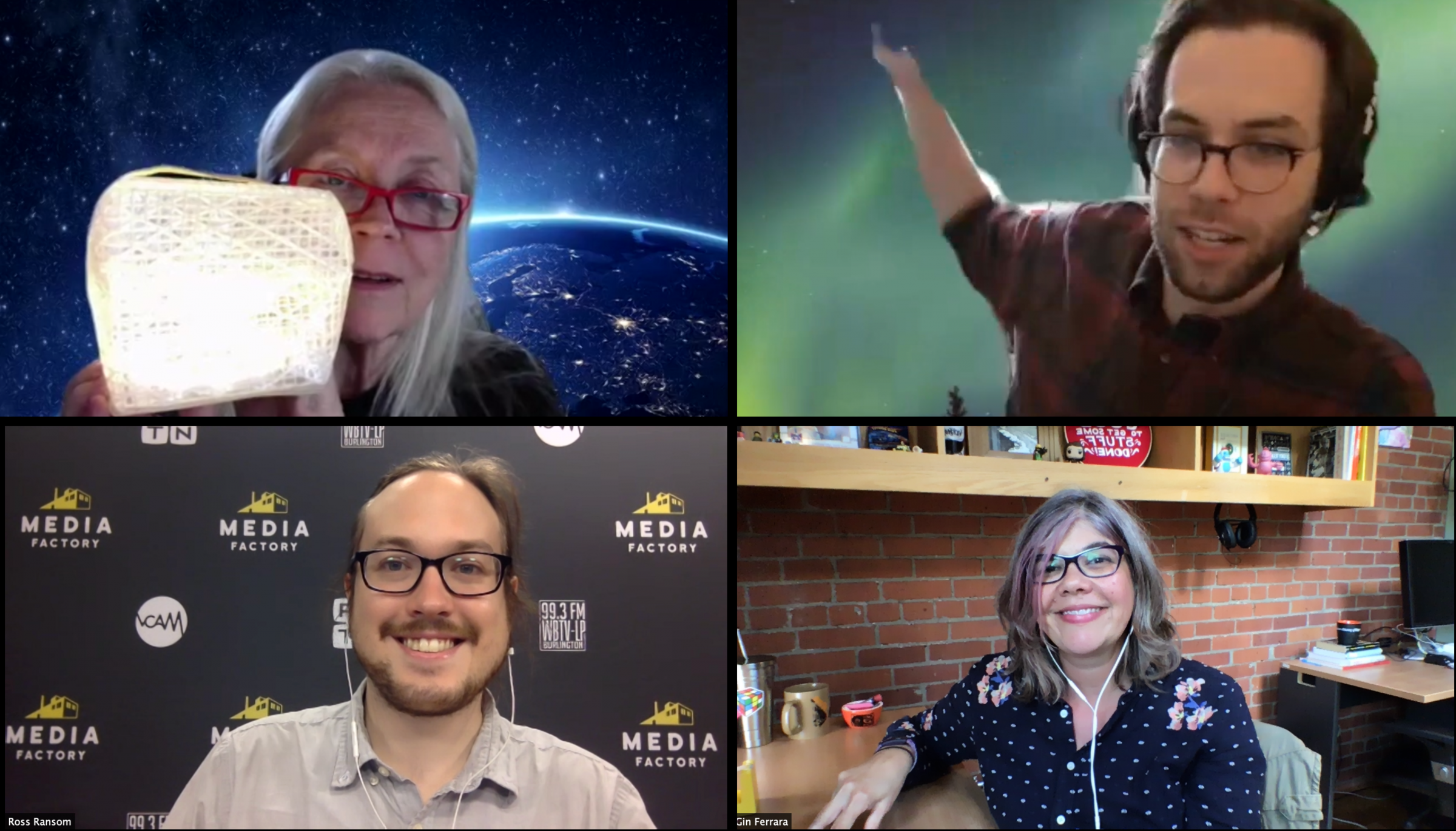 Memorable productions in an unusual year
WENDY ERIKSON, Production Technician
A highlight for me was working on the Vermont Youth Orchestra's Fall Concert, an event designed with adaptations for social distancing and Covid-19 in mind, including recording the show in four parts.
MARCY WEBSTER, Production Coordinator
Recording and editing some of our first Zoom events, the Artist Talks with Hannah Dennison, Maia Vota, Andrea Grayson, and Matt Heywood, was inspirational and fun.
PATRICK HELTZ, Distribution Coordinator
A favorite program of mine was "Love and Rockets and Alternative Comics," a presentation on the seminal graphic novel series, filmed in February, one of the last First Wednesdays recorded live.
DREW FRAZIER, Content Manager
I'm proud of our work supporting the Quarry Project - finding ways to make a site-specific live performance continue during covid-19. We created a remote editing workflow to project short films onto a cliff face!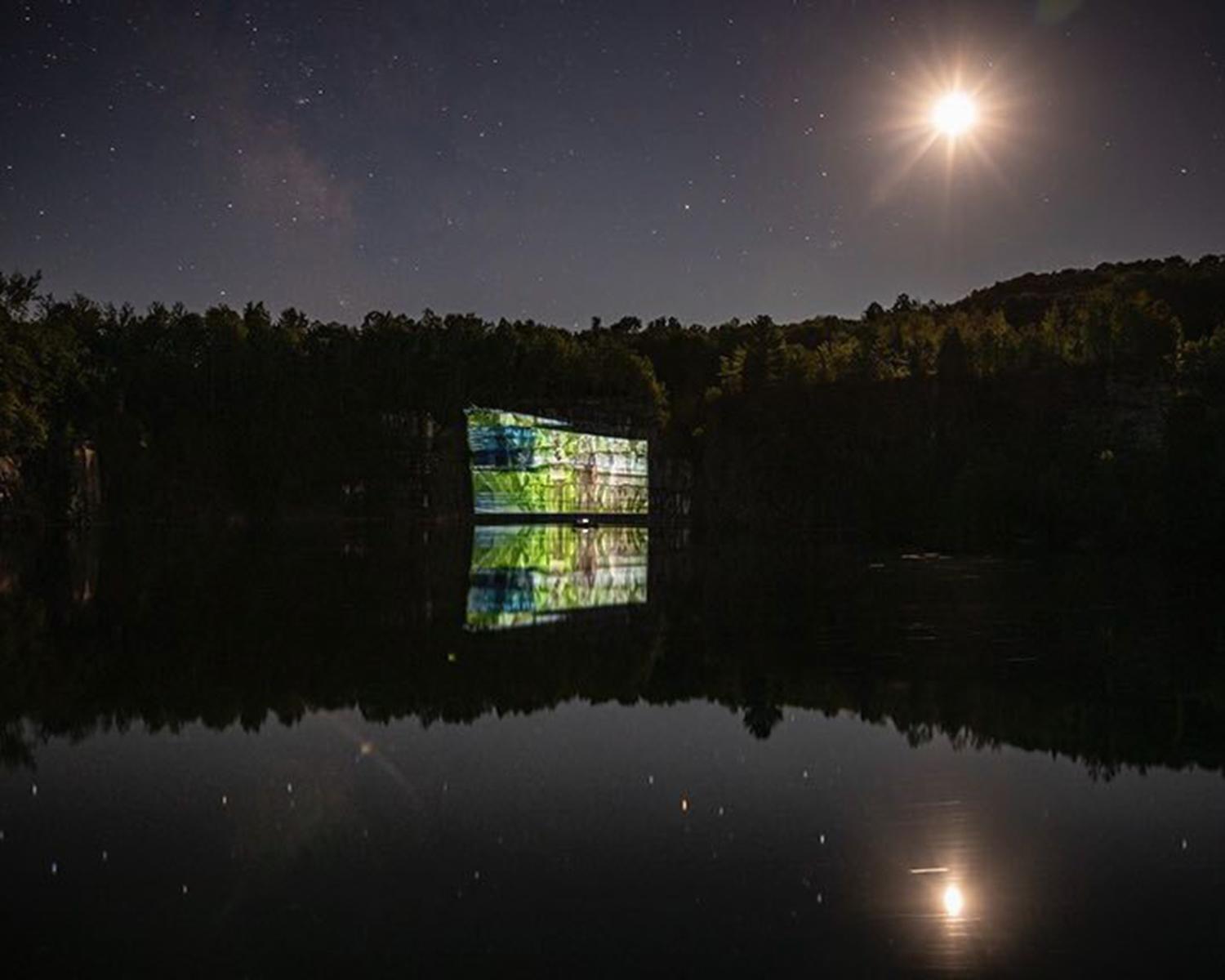 Re-making a feature film connects Vermonters
JEFF BOTAS, Systems Administrator
The way everyone pulled together as an organization for Crowdsourced Cinema VT was impressive. We did a lot of work, and have a lot to be proud of.
JUDE DOMSKI, Production Technician
Attending the Crowdsourced Cinema VT Drive-In, seeing the film, and realizing how many hours it took to create. I loved how people worked collaboratively and created connections.
GIN FERRARA, Community Engagement Manager
I looked forward to my weekly sessions with the UVM Public Communications Action Team, a group of 5 seniors with great skills. It was a fun and creative experience creating new engagement ideas like the viewing guide and bingo card for Crowdsourced Cast Away.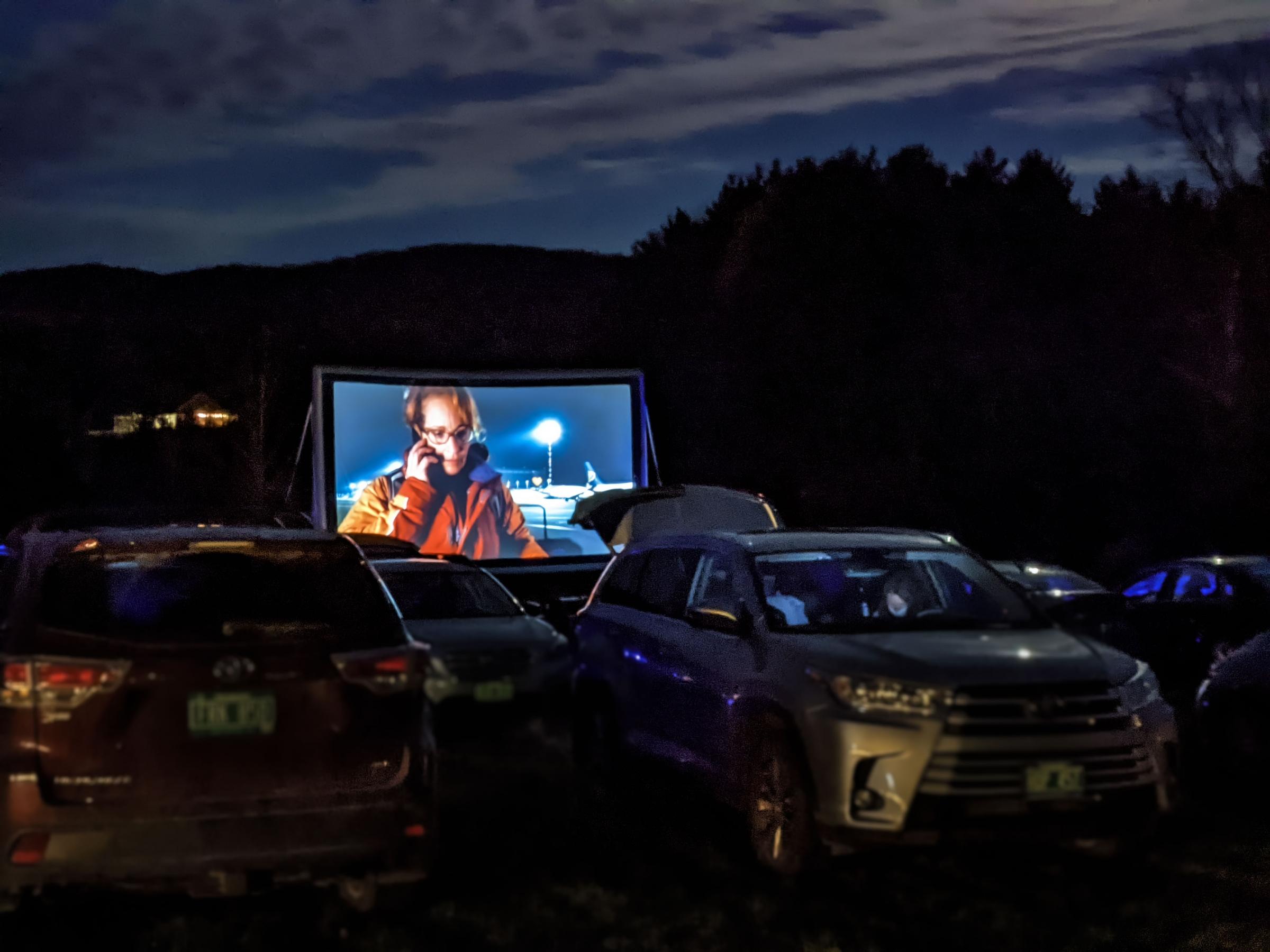 Being part of a bigger community
SETH MOBLEY, Executive Director, VCAM
Working with Chittenden Accountable Communities for Health to develop ideas for creative messaging to reduce stigmas around mental health and suicide. It was rewarding to share my media knowledge to support the effort.
MATT GOUDEY, Media Systems Manager
Although I never took my colleagues for granted, I realize just how much I need their presence in my life. My life is richer because I work with wonderful people, and see people from my community on a daily basis. I am forever grateful for my inclusion at the Media Factory.
In many ways, 2020 reinforced what matters most about our work.  We are so glad we were able to be here for you and with you! Here's to a new year filled with connection, community, and mediamaking!
If you have benefited from our work this year, and have the capacity to give, please consider making a tax-deductible donation to the Media Factory.