Dinosaurs Roam Across Vermont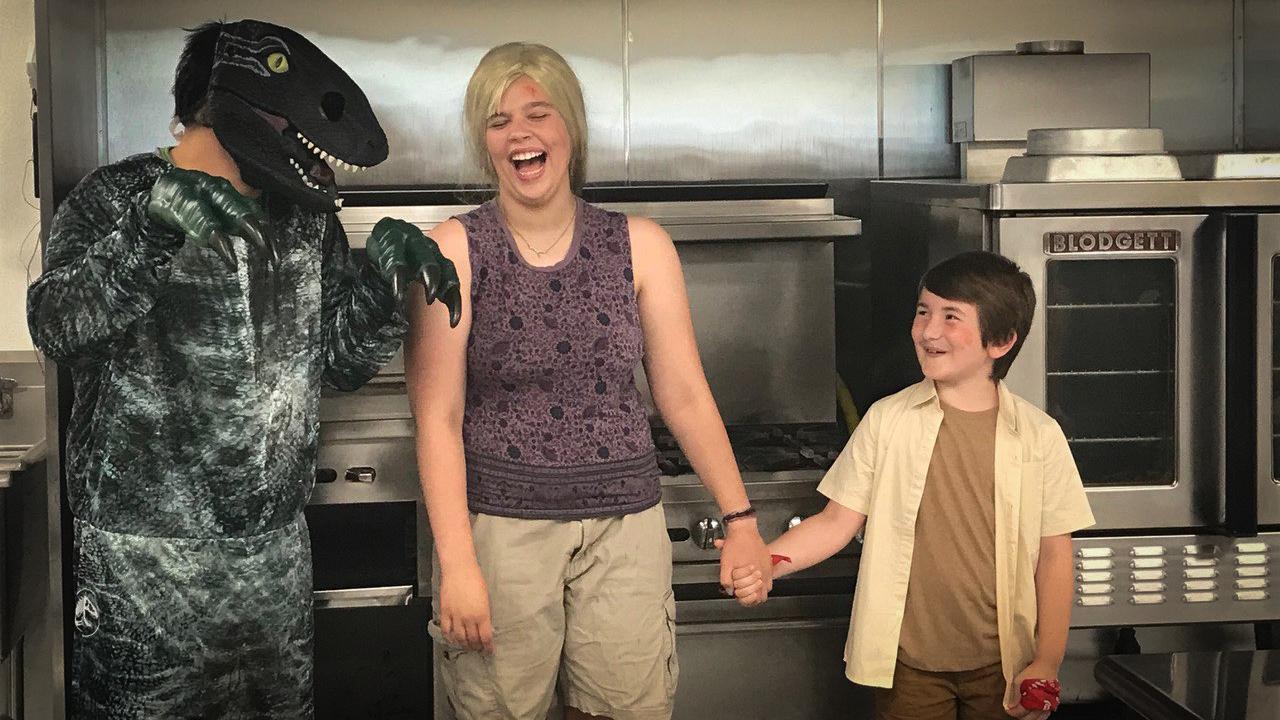 Crowdsourced Jurassic Park roars to life in October!
Image: A laugh between species on the set of "System Secured," directed by Liam Colgan.
Watch a statewide collaborative filmmaking project made by dozens of Vermonters, with support from the Vermont Access Network and Media Factory.
This summer, plastic dinosaur figurines and inflatable dino suits were in demand. Lush Green Mountain locations doubled for the fictitious tropical Isla Nublar. Vermonters donned wigs and khakis to reprise roles made famous by Jeff Goldblum and Laura Dern. And altogether, 37 teams of community filmmakers created their own version of a scene from the blockbuster Jurassic Park as part of Crowdsourced Cinema VT. For the second year, community media centers affiliated with Vermont Access Network (VAN) took part in this statewide project coordinated by Media Factory and open to anyone in Vermont - no experience necessary. 
Teams worked to create their scenes using all available tools: they borrowed green screens from their local community media center; created special effects and fake blood; and ran from dinosaurs made out of toys, paper, puppets, and animated drawings.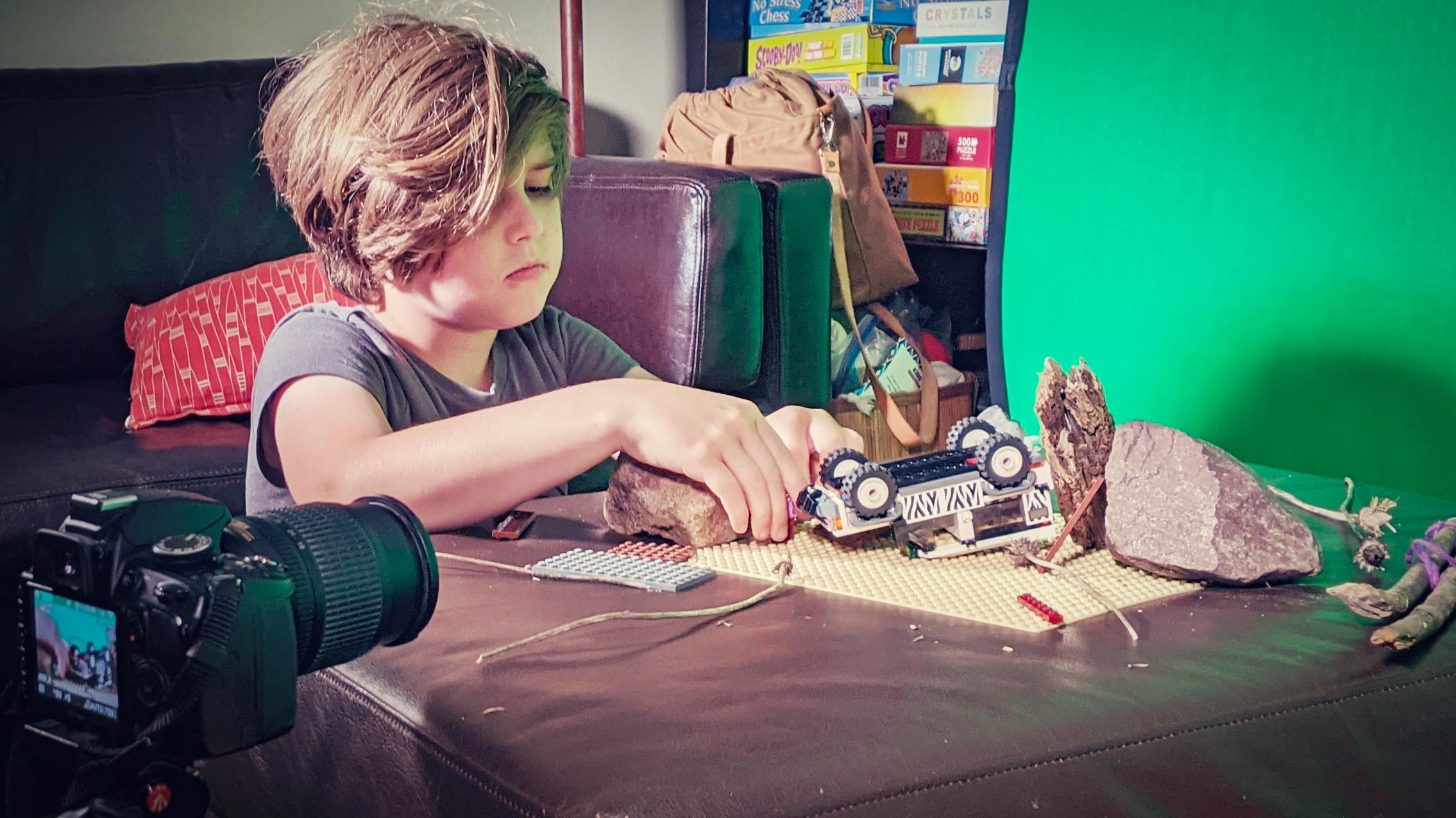 Image: E animates the discovery of the car for the scene "Must Go Faster."
On the project's active Discord channel, creators thanked friends for offering fields where they could film dino droppings, animators shared supplies and artwork, and teams compared costume ideas. It was the focus of several summer TV camps. In Richmond, youngsters wheeled a "jeep" made of cardboard in front of the Town Center, while in Brattleboro, campers delivered their lines perched in foliage. Composers from throughout their state created scores and sound effects to accompany the action, re-imaging the film with all new imagery and audio. 
Colchester student Liam Colgan enjoyed his second year of participating in Crowdsourced Cinema VT, noting: "I enjoyed hanging out with friends and filming my scene with them." He adds,"It is nice to be part of a big summer project for the second year in a row!"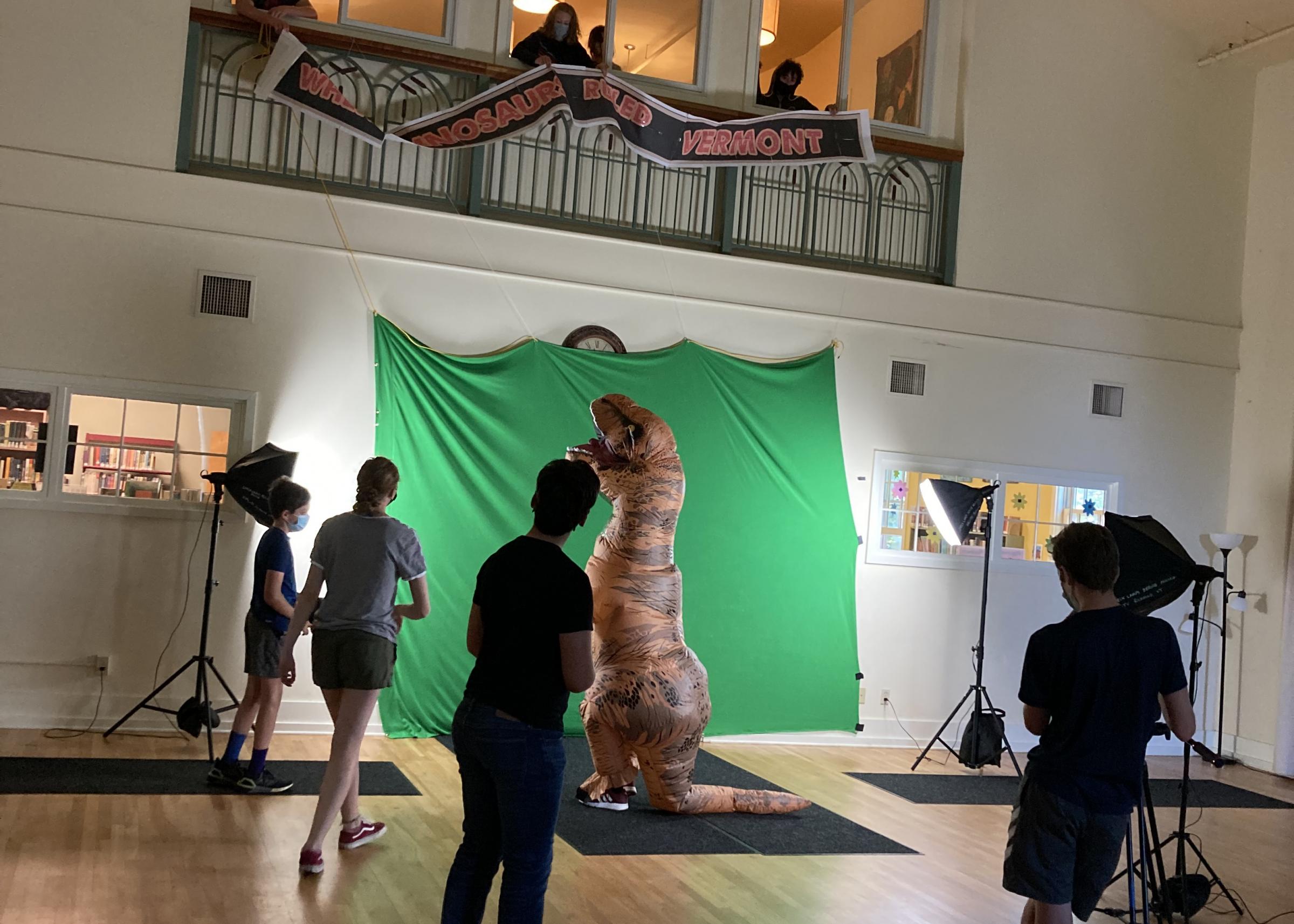 Image: The Mt. Mansfield Community TV Film Camp films their scene at the Richmond Town Library.
EVENTS and AIR DATES
Friday, October 8, 7:00PM 
Outdoor Screening at the Essex Experience - Tickets (hosted by LCATV, MMCTV, and the Media Factory, with
event sponsor the Essex Experience)
Friday, October 15, 8:00PM
Television Premiere on Vermont Community TV (VCTV Comcast 1070) and local community media channels
Sunday October 17 6:00PM
On Vermont Community TV (VCTV Comcast 1070) and local community media channels
Wednesday, October 20 8:00PM
On Vermont Community TV (VCTV Comcast 1070) for
Community Media Day
 
The video will also be available online at crowdsourcedvt.com
There was room in Crowdsourced Cinema for all levels of filmmakers. One family of first-time filmmakers learned a lot about special effects and how to bribe amateur actors to do "just one more take;" They are already looking forward to next year, adding, "We signed up on a whim, and it was just the right level of challenge for us." Experienced Brattleboro animator Christopher Grotke of MuseArts Inc's, found the challenge a "fun diversion." As a team leader, Grotke first storyboarded their section of the film and created a soundtrack full of dinosaur jokes and Vermont references. He used animation platform Moho Pro to create expressive dinosaurs, synching their movements to the soundtrack. "It was a real race to finish the 30 scenes, fully-animated, in just a few summer weeks," he explains. Grotke appreciated the chance to both analyze the Hollywood skills behind the original film and to compare notes with youngsters of another Crowdsourced team at Brattleboro Community TV. 

Image: Stills from Christopher Grotke /MuseArts' scene "Welcome to Jurassic Park."
If last year's Crowdsourced Cast Away captured our pandemic isolation and uncertainty, Jurassic Park was the perfect film for 2021 as we embrace a new world with some dangers and lots of wonders.
Image: The tiny Jeep and gate created by Hayes Johnson, for the scene "Manual Override" is inspected by Team Pup, Faye.